I'm really concerned about Elliott and this new allergy.  We're still waiting to hear from the doctor, as she likes to personally call and explain things.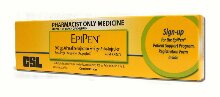 Having said that, when the nurse informed us of the results, she said that Elliott's numbers were extremely high and that he can't have any contact with almonds.

What we don't know yet is exactly what this means. We don't know whether or not other tree nuts are on the list and just how carefully these need to be avoided. It does look as though he will need to carry an epipen on his person at all times.
Needless to say, this complicates our already complicated lives and has increased Elliott's anxiety.  🙁