It's been a long day and I'm definitely tired, but I'll begin at well, the beginning.
Elliott and Emmett were both home from school today. Elliott has been sick since Thursday night and Emmett's been sick since Saturday. Gavin is currently doing great but I think I'm getting sick as well. I've started with a cough today and I'm feeling rundown.
There was some minor concern because we traveled and spent time in places where COVID19 has been confirmed. Exactly 2 weeks after we arrived home, Elliott spiked a fever. I called Akron Children's Hospital this morning because he had a well check scheduled for today. They decided to change the appointment to a sick appointment instead of cancel it.

Long story short, Elliott tested positive for Influenza B and they said that it was probably as mild as it was because he had his flu shot.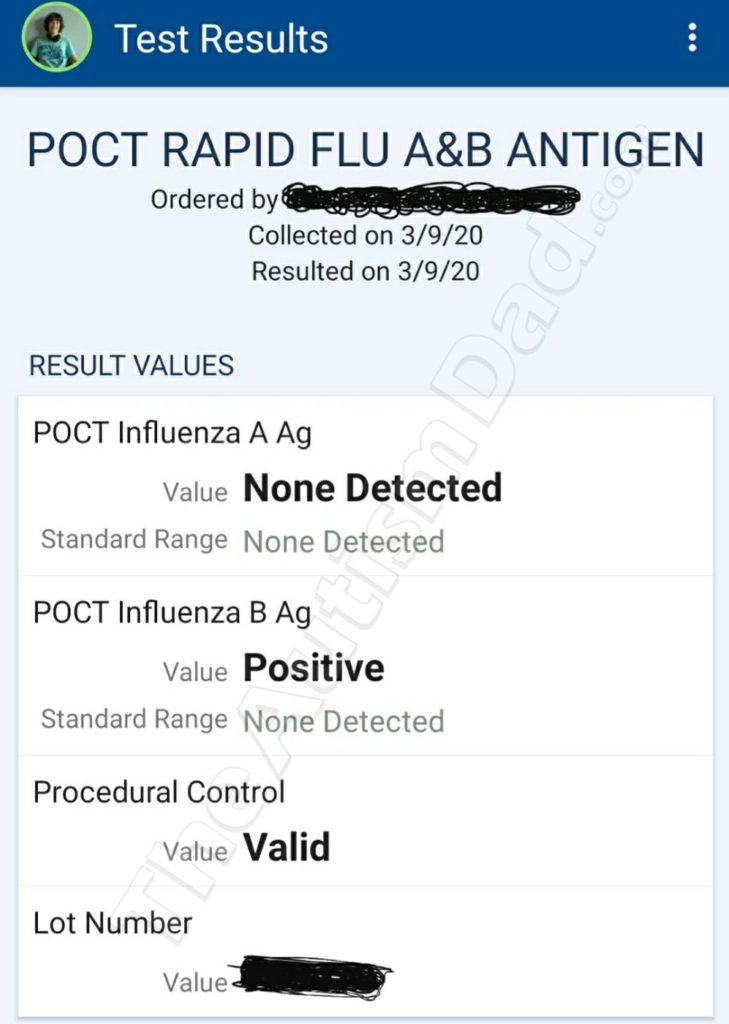 It's pretty safe to say that Emmett is probably dealing with the same thing. The same goes for me as well. Hopefully, Emmett and Elliott are both on the outside of this. I'm hoping that if I'm actually getting sick, it's mild as well because there's no one else to care for my kids.
Lizze is still very sick (bronchitis) and isn't able to help. We also can't expose her Dad to anything as well. I hope she feels better some and the rest of her family stays healthy.
The boys will be home on Tuesday and hopefully returning on Wednesday. Emmett hasn't been tested but if he's fever free for 24 hours, he's okay to return as well.
I'll have to cancel therapy appointments for both myself and the boys. We're self-quarantined for the next day or so. Anyway, Elliott and Emmett are supposed to rest and stay hydrated. That shouldn't be too challenging because they're not super active right now.
Big thank you to Akron Children's Hospital for the amazing care Elliott recieved once again today. He was really anxious about the testing because they swab the inside of your nose. They were so patient with him and I appreciate it. Can't say enough positive things about Akron Children's Hospital.
It's beginning to get real because COVID19 has been confirmed in Ohio. We're only one county away and I'm getting worried, especially for people like Gavin.
I'm making preparations so we can lock ourselves down for a few weeks if need be. Food, water, disinfectant, soap, toilet paper, medications etc.
I need to get a few more things and focus on nonparishable food items but I feel like we're in pretty good shape. The ODH has a checklist on how to prepare and I'm trying to check all the boxes or at least as many as I can.
I'm responsible for 3 kids with Autism and Gavin has a compromised immune system, along with several other health issues. I have to be as prepared as I possibly can. I'm on my own and we absolutely need to be ready for whatever this pandemic throws at us.
So far, the kids aren't freaked out and while they are aware of the serious nature of this, they are working with me to help get ready. I'm trying to make a game out of it. I mentioned before that we're planning for a Zombie Apocalypse and that's gone over quite well with the boys for right now. Thank God for the little things. Trying to manage this with them in a panic would be so much more challenging.