As you know, Elliott has been wanting a kitten in the worst way imaginable.  He used to have a cat and few years ago named Ducky.  We had to say goodbye to Ducky because he was very aggressive and Elliott was getting hurt. 
As much as he loved Ducky, he was equally scared of him as well.
When the whole idea of another cat came up, Lizze and I were both like oh hell no. However, after my near death experience with mouse in my bathroom last week, I had a change of heart.

Anyway,  for most of our lives together, Lizze and I have always had 3 cats and 1 or 2 dogs. 
Cleo has been an only cat for a few years and isn't exactly the best moucer.  So I quietly began my search for a cat.  My preference has always been siamese cats.  I used to have one unto it was struck my lighting and killed a few years back.
So I found this ad in the local paper for siamese kittens and I called.
I eventually was put in contact with a very nice Amish lady, as she called herself. She is a breeder of siamese cats and had several male kittens left.  She was willing to part with them for $75 each. However I explained our situation and that we simply couldn't afford that.
I thanked her for her time and moved past the idea. 
About a week later I get a phone call and it's this same Amish lady. She had talked to her family and they decided that they wanted to give us the kitten. She explained that people had helped her family before and now she wanted to help ours. 
Lizze and I decided to take her up on her offer and we all headed south, deep into beautiful Amish country. 
Upon our arrival, it was already dark. I was greater by a nice lady who took me out to the barn to show me that kitten.
When she brought out this little cage, it had not one, but two pure breed siamese kittens.
She said that I should take both of them and before I could politely decline her generous offer,  she explained her story.
Apparently, she lost her husband to a tragic farming accident.  The anniversary of his death was January 1st. She said that the whole community was there for her and her kids. She couldn't repay that kindness but she could instead show us kindness. She then added that her husband would want her to do this and it was a way to honor his memory.
What do you say to that?
She was very sincere and this was really important to her.
Long story short, we came home with two kittens instead of the one.  It has worked out for the best though.
We named the boys Sam and Dean after the characters in Supernatural.  The reason for that is because the smallest kitten was very protective of the bigger one, just like Dean is with his brother Sam in the show.
Elliott and Emmett are both happy, as is Lizze, despite her concerns about this.  She's a huge cat person and hopefully she'll find herself a bit more relaxed with the beautiful purring kittens.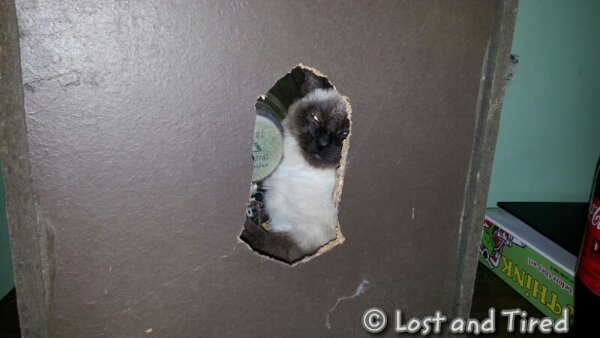 This little guy hiding inside an old speaker is Sam.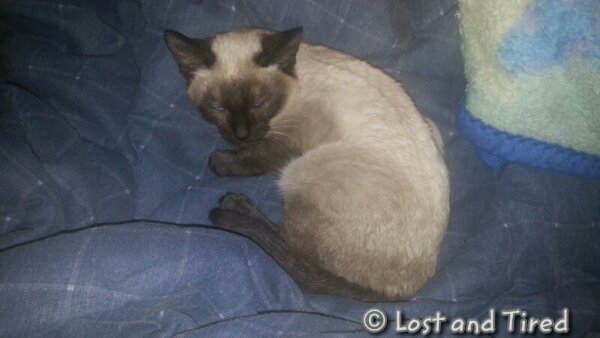 This is Elliott's cat, Dean.