On Wednesday of this week, Lizze is scheduled to have a sleep study at the Cleveland Clinic. This is a prerequisite to entering the Chronic pain rehabilitation program.
They want to rule out sleep apnea as a contributing factor to her chronic fatigue.
However, Lizze has been and currently still is, sick. Apparently, if she isn't feeling 100%, they sleep study will be scrubbed and rescheduled.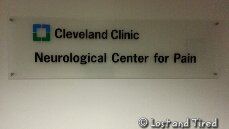 On top of that, services for her Grandfather, who past away Sunday night, will be on Wednesday as well.
Lizze is going to be an emotional wreck that day and I can't see her being in a position to take part in a sleep study. My guess is that we will have to reschedule.
Unfortunately, that will put her entering the Chronic pain rehabilitation program in limbo.
We don't know how soon we can reschedule the sleep study and the follow up appointment with her sleep neurologist.
I know this sucks but right now, we have no control over these things and so we are going to do our best to take them in stride.
This is going to be a tough enough week as it is. Perhaps it's all for the best.