A word of advice to anyone out there that would mess with my kids, don't do it. While I would put you in the ground myself, I discovered last night that I they can be vindictive little boogers.
Emmett was frustrated with Maggie because she was intimidating his kitten, Sam, with her presence.
Honestly, Maggie wasn't doing anything but Emmett felt that he was defending his kitten. I let him do just that.  I like to see my kids stand up for themselves, it makes me feel better about their future. I don't know if that even makes sense?

Anyway, I suggested that Emmett put Maggie in her kenel for a little while, so his kitten would be scared.
He did just that.  He put Maggie in her kenel.
Maggie is a large, very powerful dog. Putting her in a kenel,  is like putting Superman in a regular prison cell.  Superman stays by choice and so does Maggie.  At any point, she could simply bend the steel door and let herself out as she has many times before.
Emmett however, was prepared for that and took action to ensure that wouldn't happen. 
I do think I need to really say anymore because the picture says it all.  I'll just add, that Emmett did such a good job securing Maggies kenel, that I had a really hard time getting her out of the knee later on that evening. 
It was really funny but made me realize that you don't want to tick Emmett off, especially if you value your freedom.  🙂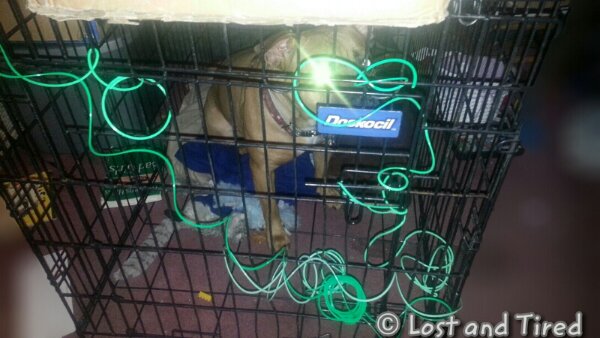 Emmett spent about 45 minutes working the slinky through the kenel door and around the side to ensure that the door wouldn't open. He forgot about playing with his cat, but hey, he put his mind to something and followed through.  🙂
That's got to count for something.