Update: The entry form is at the bottom of this post, it's just loading slowly.
IdolPad 9 android tablet giveaway #2
Lost and Tired is proud to work with Idolian, in conjunction with millerrupp.com to do this android tablet giveaway. This is the second of three giveaways the will be taking place in January of 2013.

I wanted to make sure I told you to check out Idolian's website because they have tons of great tech for a very reasonable price.
Now let's get to the details.
This giveaway is for one (1) IdolPad 9 android tablet. This is the 2nd of three tablet giveaways in the next few weeks.
The IdolPad 9 is a 9 inch tablet powered by android 4.0 (ICS) from Google. Below are some specs for you to check out and get a better idea of what this tablet is.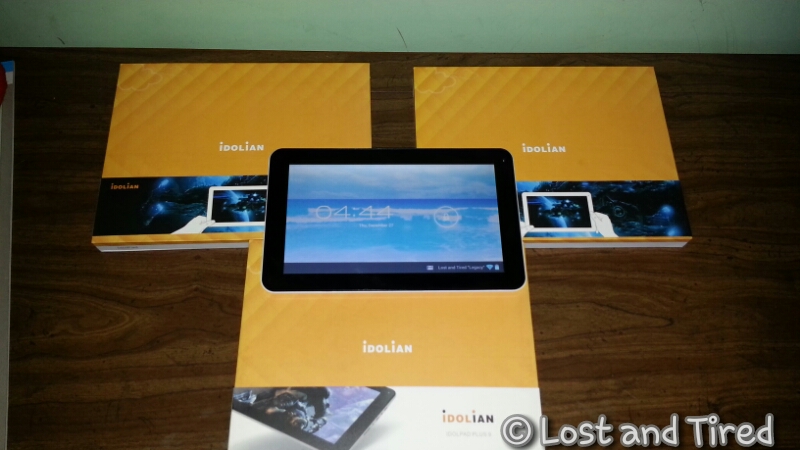 9 inch TFT-LCD screen, 800 x 480 (16:9)
Capacitive 5 Points Multi-touch
Cortex A8
System Speed: up to 1.2 GHz
RAM DDRIII 512 M
Built-in 8GB
External Micro-SD card supported, from 512MB to 32GB
System Google Android 4.0 OS
Wi-Fi: Built-in Wi-Fi Module, IEEE 802.11 b/g/n.
Network 3G: Support external 3G USB Dongle.
( WCDMA/ TD-SCDMA/ EVDO )
Camera Front camera: 0.3 Mega
Games G-Sensor 3D games supported
Video 1,080P videos supported
Standard Accessories: Charger, earphone, user manual, Battery 4,500 mAh (work time: 7 ~ 9 hours)
USB cable, OTG cable and Gift Box. Other Functions
My personal experience with the IdolPad 9
I've had a couple of weeks to get to know this device. Basically, this is an entry level android tablet. This particular device is not meant to be an iPad killer by any means.
Entry level tablet means that this is a great tablet for anyone looking to get their feet wet and experience an android tablet at a very, very affordable price.
My kids have been playing with this tablet for a couple of weeks now and it's worked out pretty well for them.
We have used this device to stream Netflix and watch ripped DVD's from our personal collection. The IdolPad 9 handles these tasks with relative ease and efficiency. The boys have also played their educational games by Intellijoy as well as enjoys games like Angry Birds, Where's My Water, Where's My Perry and Sprinkle. 
The resolution is 800×600, which is pretty low, especially when compared to the iPad or more advanced android tablets. However, what may seem like a weakness actually works out well, especially for younger kids. The 800×600 resolution makes the icons larger and easier to use for kids, especially those on the #autism spectrum.
My kids really like using this tablet and have benefited from their time with it. My hope is that your child will too. 🙂