UPDATE: I've been contacted by PNC's social media department and they want to help. I'm grateful for them reaching out and I look forward to speaking with them soon. 
UPDATE 2: It was suggested that I post a transmogrified copy of the check along with the date it was cashed. Here you go. Please notice that date on the check, the date it was cashed and the "void after 90 days". PNC informed me that they don't honor the "Void after 90 days". If that's the case, what's the point of having it on there?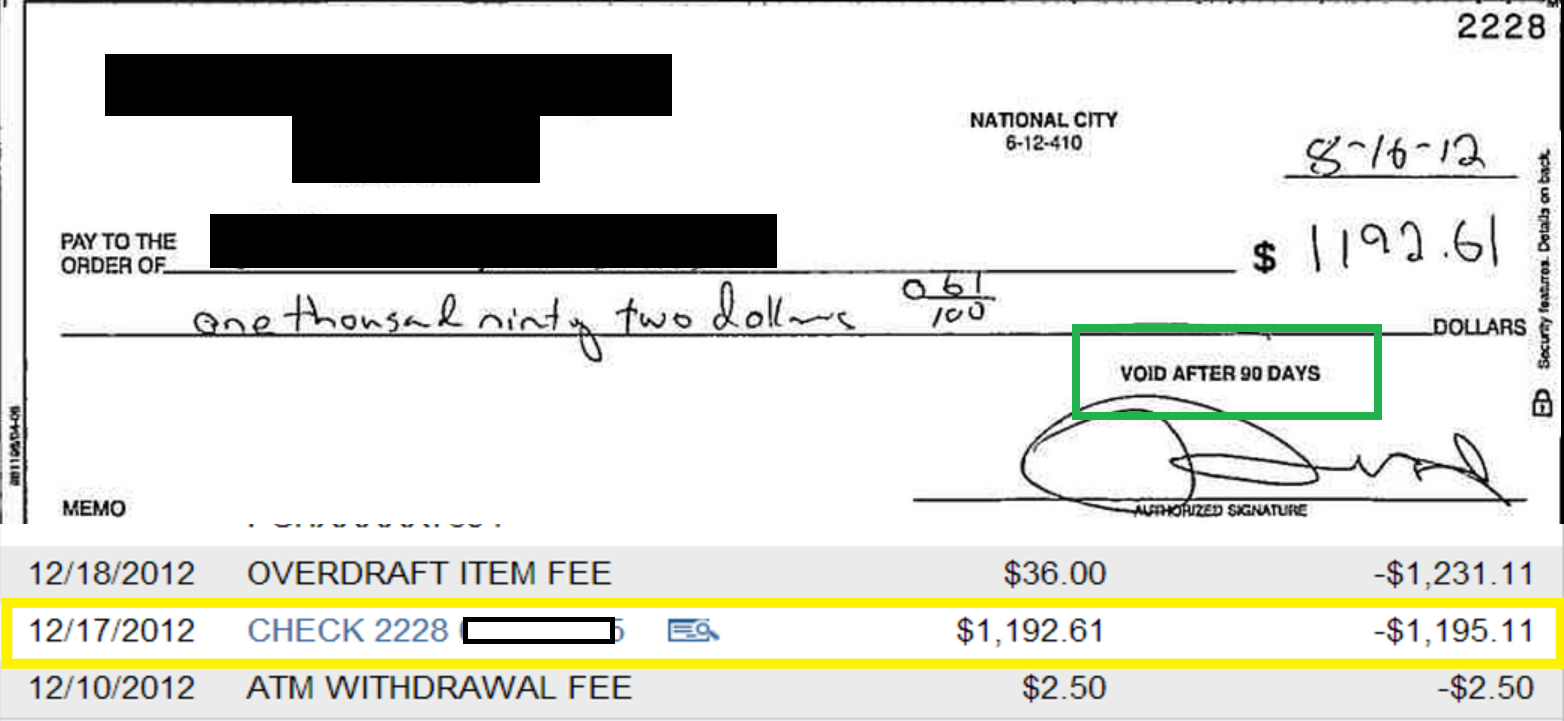 I don't make it a habit of using this blog to call attention to issues I'm having with a business or company.  However, every once in awhile,  we are impacted so severely by something that I feel I need to bring it to light.  Especially, when I have been trying to address the issues through proper channels and get rebuffed.
PNC Bank is going to be on the receiving end of things for once.
I've written about this a few times lately but I've not directed things publically to PNC.  That's about to change.
Last year, I opted out of overdraft protection because we were finding ourselves overdrawn on too many occasions.  That's my fault and I accept responsibility for that.
However, I wanted to make sure that we weren't going to continue bleeding to death due to overdraft fees.  Between removing the overdraft protection  and more diligence on my part, I felt that we were safer and could get ourselves back on track.
However, in December of 2012, PNC allowed an expired check to clear my account.  That check was in the amount of $1,200, roughly.  The balance in the account they let it clear from was only $2.43. Doing the math, you'll find that the check was about $1,197 more than what I had in my account at the time.
I received a text message letting me know that my account was in the negative by almost $1,200.
I immediately contacted the bank and wanted to dispute the amount but I was told that the check would most likely bounce back due to insufficient funds.  Besides, the amount was still pending and you can't dispute a pending amount.   Basically, I would get the fee for the bounced check but the check itself wouldn't clear.
At that point, I contacted the company that had deposited the check to find out why in the world they did this.  The check was written as one of a string of post dated checks meant to cover the repairs done to our old  van, two weeks prior to it being stolen and totaled out.
The $1,200 was basically the last check of the batch. What was supposed to happen when they reached that particular check was that we would rip it up and spread out the payments further.
However, over the summer, we had a miscommunication and when our phone numbers changed, they couldn't get a hold of me.  Now, I'm pretty sure I gave them my new number, but either way, they weren't being malicious.  It was a mistake and one that they were more than willing to correct.
They told me to have the bank bounce the check back and they wouldn't attempt to redeposit it.
I called PNC back and was told to wait and see if it actually cleared first. Again they said the check wouldn't clear.
Guess what, the check cleared and PNC refused to bounce it back due to insufficient funds.  They allowed a check to clear my account that was almost $1,200 more than I had available.………and I didn't have overdraft protection  either………and the check clearly stated on it that it was void after 90 days.  We were well outside of the 90 days by then.  That doesn't seem to matter. None of it does.
After the check cleared the account, I officially disputed the transaction.  I was told that we were requesting that the check be bounced back.  I was also told that I would not be getting a provisional credit due to the amount.
My understanding was that PNC was going to bounce the check back and the check wouldn't be redeposited.  If the money reappeared into my account, that would be because everything went through as planned.
A few days later I was relieved to see the money back in my account.  I was able to cut payroll for the business and I was preparing to make a payment on our mortgage.  Out of nowhere and without notice, the $1,200 disappeared from my account once again.  This time, right before my direct deposit was supposed to hit.  I was once again over a $1,000 in the negative and when my $1,200 direct deposit was deposited, it basically canceled out the negative balance and I was left with nothing.
Turns out that PNC did give me a provisional credit.  However, I was supposed to get a letter telling me that.  If the credit was to be removed, I was supposed to get notice so that I could prepare. Again, I never heard anything from anyone.
At this point, I had lost between $2,200 – $2,400, not including overdraft fees and miscellaneous transactions that no one can explain.
This was the final blow that killed my business and forced me to close after 13 years.  I was unable to cover payroll and my last contractor was forced to find work elsewhere.  Who can blame him? I know I can't.
To further make matters worse,  during this whole debacle, PNC bounced back 2 checks from my other account. Those checks were automatic payments and amounted to only $60 total.  There were insufficient funds for those to clear,  that was my fault.  However, my problem with that is,  why let the $1,200 check clear and not the $60?
It makes no sense logically, unless you look at it from the angle of what benefits the bank more.  They are likely to collect more fees from a $1,200 overdraft than they would a $60 one.
This is how they defended their actions.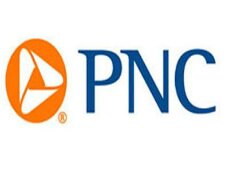 They said that a computer decides what checks will clear and what checks will be kicked back for insufficient funds.  They say it takes into account your history and standing with the bank and whether or not you have direct deposits going into that account.  If that's the case, I was a horrible investment.  Last year, we lost well over $1,000 in overdraft fees alone.  Most of that was my fault and I take responsibility for that.
However, I do have direct deposits going into that account and that's why they allowed $1,200 check to clear. At least that's my understanding.
But wait…..I have direct deposits going into the other account as well and they bounced those 2 $30 checks back.  How does that make any sense? How is that consistent?  Hold the phone, I didn't have overdraft protection.  How could the checks clear if I didn't have overdraft protection? Apparently, overdraft protection only applies to debit and credit transactions and not checks. Who knew that? I certainly didn't.
If the above is true, then why didn't those other 2 checks for significantly less, clear?  I'm confused by the inconsistencies here.
I mentioned earlier that I have tried going through the proper channels.  I've gone through my branch manager and he even helped me file a formal complaint.  I was supposed to hear back from that department, however, that never happened. Turns out they emailed the manager the next day and told him that I was without recourse.  No one bothered to tell me that.
I've been waiting to hear back from someone that was never going to call me back.
Now they have taken  to moving money between my accounts without my approval or consent.  Them doing so has led to me overdrafting again because I had no knowledge or advanced warning of the transfers until my debit card was declined.
When I called to inquire, PNC says that they can move monies between my accounts, without my consent because I'm a sole proprietor and I had a negative balance in one of my accounts.  Really?
The only reason I had the negative balance still is because I was waiting to hear back from PNC, telling me what had happened and what I needed to do.
Remember that phone call I was supposed to get but never came?
PNC, I can't even begin to tell you how this has impacted my family.  I realize and accept responsibility for the fact that I'm not well off and unfortunately for me (fortunately for you) I have a history of overdrafting.  I'm doing the best I can inside of an impossibly difficult situation.
The bottom line is that it appears that your are picking and choosing what policies to enforce and when to do so.
Your bank has received what, around $7.6 billion in tax payer dollars during the bailout.  I don't know if you have paid that off yet or not but the point is,  you are around today because of the American people.
What you have done to my family is not a good way to say thank you.  I can only imagine how many others have fallen victim as well.
At this point, in part, due to your banks decisions, I'm in foreclosure. I have 3 special needs children and a chronically ill wife.  The stress caused by this has done emence damage. I have been unable to pay bills or even buy groceries.
Much of the funds I lost during this period of time, were earmarked for house payments and our trips back and forth to the Cleveland Clinic for my wife.
Is it your fault that I'm behind in the first place? No its not.  However, your actions have robbed us of the ability to bring our mortgage current. Not only that,  but I can't even put gas in the tank in order to take my son to school or my wife and kids to therapy and doctors appointments.
I trusted you with my family's money and while it was never much, it's what kept us afloat.  I feel betrayed and robbed.
I have yet to get a satisfactory response from you and I'm no longer going to sit quietly and wait.  They say that the squeaky wheel gets the grease.  Well, I haven't even begun to be squeaky yet.
I know that there are plenty of satisfied customers out there.  I truly hope that we have simply fallen through the cracks.  I can't imagine this is how you do business.
I'm tired of contacting you.  It's your turn to contact me.  You can do so through the link at the top of this page.  I welcome any communication that helps to resolve this issue.
Please help me to make this right.
This site is managed via WordPress for Android, courtesy of the @SamsungMobileUS Galaxy Note 2 by @Tmobile. Please forgive any typos. I know how to spell but auto-correct hates me.  😉
For more ways to help the Lost and Tired family, please visit Help the Lost and Tired Family.