Over the past few weeks, we have been experiencing a growing problem. For some reason, Maggie and Bella haven't been getting along. It's more like Maggie simply doesn't tolerate Bella as much anymore.
There have had a few instances where Maggie snaps at Bella for seemingly no reason at all.  When I say snaps, I mean snaps.
Bella has sustained minor injuries but nothing serious.

Lizze and I have actually been discussing whether or not they can coexist in the future.  We've talked about finding one of them a new home but which one?
Maggie is the better dog of the two, in the sense that she listens and has been here for years.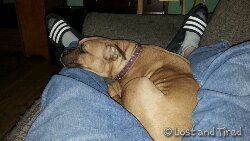 On the other hand, Bella is Emmett's dog and has really brought him out of his she'll over the past year.
We need to speak with the vet on Monday and find out if there is anything we can do. Do they need more exercise? Does Maggie need more attention? Does Bella just annoy the crap put of Maggie? Bella can annoy the crap out of us so maybe Maggie's in the same boat.
If it comes to a point where we have to make a decision,  or matter which we would choose or what direction we would go in, everyone is going to be upset.  This would be a major destabilizer.
I'm really, really hoping that we can figure this out and get everyone back to a place where they all got along. 
This site is managed via WordPress for Android, courtesy of the @SamsungMobileUS Galaxy Note 2 by @Tmobile. Please forgive any typos. I know how to spell but auto-correct hates me.  😉
For more ways to help the Lost and Tired family, please visit Help the Lost and Tired Family.