When we repainted our house a few years ago, I was really careful not muck up the walls.  I was always reminding the kids not to touch the walls.
Anyone with kids can probably guess how well that went.
Back then, I couldn't recognize a losing battle when I saw it, and trust me, this was a losing battle. 

Having said that, I've grown a great deal since then and not just in the waistline.  While it took a little while for me to realize that the marks in the walls gave our house character, I see that now. 
Looking back on how I tried to protect the freshly painted walls, I feel silly for putting so much weight on something that mattered not. 
Fast forward a few years and if you walked through my house and looked at my walls, you would see Hot Wheel tire marks everywhere.  There's no shortage of tents and dings either.  However, what has become my personal favorite is the tiny little handprints, scattered across the living room. 
If you look close enough, it's like actually watching my kids grow up, right before your eyes. 
These handprints, these imperfections on my walls have become treasures that have come to value greatly. I would never paint over them and I would never cover them up. 
In fact, there are times that I would actually like to physically frame them in, just like a picture.
I used to think that things like these made my house look trashy.  As I've grown wiser with age, I realized that the handprints made our house a home.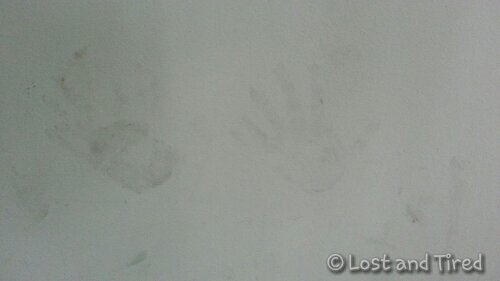 This site is managed via WordPress for Android, courtesy of the @SamsungMobileUS Galaxy Note 2 by @Tmobile. Please forgive any typos. I know how to spell but auto-correct hates me.  😉
For more ways to help the Lost and Tired family, please visit Help the Lost and Tired Family.