I wanted to invite you all to visit by new #Autism Awareness Shop over at CafePress. My reasons for opening this store are many but most importantly, I want to spread Autism Awareness in unique and creative ways. My goal is to start dialogue with those unfamiliar with Autism and also show support for those touched by it as well.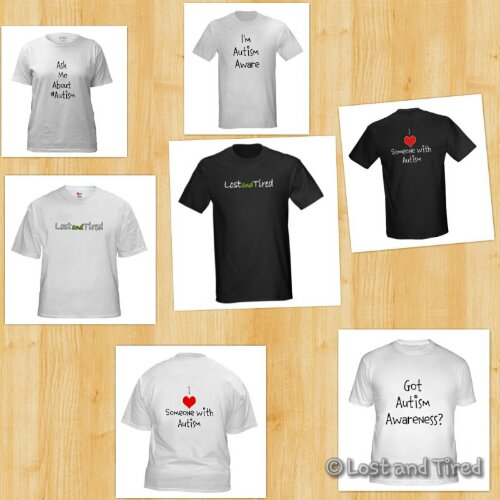 A portion of each sale will come back to me but having said that, it's not really about the money. Honestly, every little bit helps but all I'm really looking to do is help cover the costs associated with this site, the My Autism Help Forums and the out of pocket shipping costs that go along with my giveaways.

Basically, I want to keep being able to do what I do, without having to take away from my family to do so. Does that make sense?
What I really want to do is be able to provide unique and creative ways to make the world more aware of Autism and maybe even overcome some of the stereotypes. You all know that I work somewhere outside of the box and my approach to everything is kinda unique. I feel that this approach will work outside of this site as well.
Check out my t-shirts at the shop and you will see sayings like: I love someone with Autism or Ask Me About Autism. There are many more coming but these should help get the conversation started.
Autism Awareness can begin with a simple question. That question can lead to a conversation and that conversation can lead to Autism Awareness.
Please keep in mind that this store is really new and the collection will continue to grow. I'm even open to your ideas as well.
Is there a statement about Autism that you would like to make? Let me know and I'll try to help with that.
I'm also going to work with CafePress on more giveaways in the future as well. This you allow my readers the opportunity to get these items at no cost. Who doesn't like free?
Thank you again for all your continued love and support. I'm really hoping that this will help me to continue to help others. 🙂
Check out Lost and Tired's Autism Awareness Shop