Something occurred to me the other day and I meant to bring it up then.  I can sometimes get so caught up in the routine of things that I don't always see the obvious.
I sometimes make the comment that I wish someone in my house was easy to please.
I cam sometimes find myself frustrated with having to tippy toe around all the unique and challenging needs of my family.

Anyway, I realized that there is a living being in my house that is truly easy to please.  That would be our Russian Tortoise, whom we have never been able to decide on a name.
Every morning when I wake up and walk down the steps, he makes his way out of his sleeping hole and in my direction. He simply wants attention and to be fed. All I have to do is drop his food on his little plate and he's go to go. He never compliant about anything and I never have to remake his meals several times, just to get him to eat.
The only thing he wants, is to  it have his food taken away before he's done.  I don't think that's to much to ask. 🙂
Who's the easiest to please in your house?  Is it a person or pet? Why are they easy to please?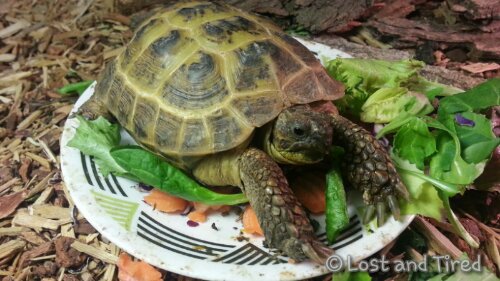 This site is managed via WordPress for Android, courtesy of the @SamsungMobileUS Galaxy Note 2 by @Tmobile. Please forgive any typos as autocorrect HATES me. 😉
Check out my #Autism Awareness Store to find really cool and unique #Autism Awareness Clothing and Accessories, designed by me. 😉
For more ways to help the Lost and Tired family, please visit Help the Lost and Tired Family.