Earlier I wrote a piece called, Why I've lost faith in Autism Awareness Month  and What I'm doing about it.
While I wasn't sure how my readers would take this, the positive response has been amazing.  Apparently, I'm not the only one that is unhappy with Autism Awareness Month, in its current form and the organizations that use this month to raise money and overlook those they are supposed to be helping.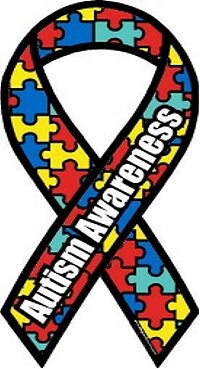 Personally, I would like to see Autism Awareness Month mean something again.  I would like to see, families get the attention, instead of the multimillion dollar companies, whoops……I mean nonprofits.
I would love to see Autism families and adult Autistic's featured in the newspaper, if they wanted that of course. What better way for people to better understand Autism than from the people who live it every single day. Something like this would make Autism way more personal and therefore more relatable.
Let's discuss ways we can make good use of Autism Awareness Month.
One of the things I've done in the past is speak at a local Universality to a graduate class of education majors.
This was hugely successful and I would encourage anyone with an opportunity to do so, to take advantage of that chance to help the teachers of tomorrow be better prepared and more Autism Aware.
I've said this before and I say it again, pay it forward in the name of Autism Awareness. Do something nice for someone and make sure they know that you are doing this in the name of Autism Awareness. People are more receptive when things aren't being crammed down their throats. 
You can even get your Autistic children in on it as well and have them help you do something nice for someone else.  Obviously, this isn't something that would work from every family but it's just an idea. 
I've been wearing my Autism Awareness t – shirts around and that's created dialogue because people are always approaching me about them.  Some people have questions and others want to tell me about their loved one with Autism.  In my mind, this is a hugely positive thing.
If you would like, you could share your story here on lostandtired.com. I'd love to feature your story here and share it with others. Just shoot me an email if your interested.
There is literally an infinite number of ways to make Autism Awareness Month more effective. Anything we can do to put the spotlight back on the people I stead of the organizations, at least some of them, is a big step in the right direction.
I'd love to hear your ideas on this because your voice is one of the things missing from Autism Awareness Month. 🙂

This site is managed via WordPress for Android, courtesy of the @SamsungMobileUS Galaxy Note 2 by @Tmobile. Please forgive any typos as autocorrect HATES me. 😉
Check out my #Autism Awareness Store to find really cool and unique #Autism Awareness Clothing and Accessories, designed by me. 😉
For more ways to help the Lost and Tired family, please visit Help the Lost and Tired Family.