One of the toughest and most helpless feelings when it comes to special needs parenting is the feeling of isolation. It's so easy to feel that way because it can be so incredibly difficult to find any type of support. 
All too often parents get discouraged because of a lack of support.  Let's just be honest, there aren't too many things that are more difficult than special needs parenting. 
Having said that, sometimes you have to turn to the Internet to make connections and find moral support.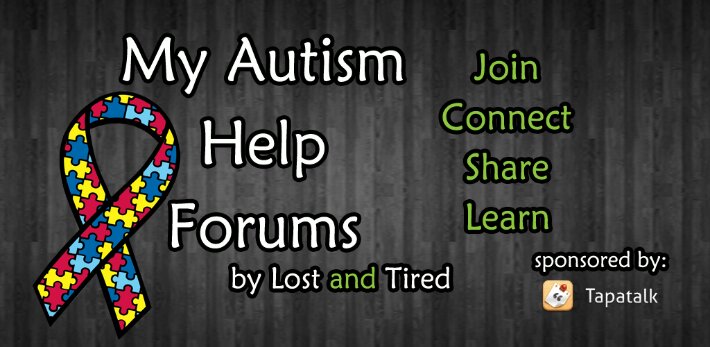 Unfortunately, there aren't a great many places to go.  There is a a lot of bullying that takes place online and that really tends to scare people off and who can blame them.
This is precisely why I created the My Autism Help Forum.
I run this forum the same way I run this blog. 
As a parent to 3 boys with Autism and various other special needs, including very fragile health. I know what life can be like, especially when you feel alone. 
The My Autism Help Forums are designed using the best forum software available and includes a free forum app for your android device, so you can access the forums while away from your computer.  This app is absolutely top of the line, custom built and donated by Tapatalk, the industry standard in mobile forum apps. 


I've also connected the forums to Facebook for easy registration, login and sharing of information with your Facebook timeline, group or friends.
I have several forum moderators, who are all well known within the special needs community.
We have a zero tolerance policy for any type of bullying will use the ban hammer if anything like that happens. 
Everyone has the right to his or her opinions. We have a right to disagree. At the same time, we also have the right to be treated with respect, dignity and compassion.  Just because we don't agree doesn't mean that we can't support one another. 
Think of the My Autism Help Forum as a melting pot.  We have all kinds of people with different experiences, dealing with different types of special needs and all wanting to be a part of something that helps to make the world a better place. 
Please join us.  It's free and you will be surprised how you can positively impact someone else.
Help me spread the word about this.  Post links on Facebook, Twitter or Google+. I want people to know that they aren't alone and there are people that care and want to help.
Visit the My Autism Help Forums today.

This site is managed via WordPress for Android, courtesy of the @SamsungMobileUS Galaxy Note 2 by @Tmobile. Please forgive any typos as autocorrect HATES me. 😉
Check out my #Autism Awareness Store to find really cool and unique #Autism Awareness Clothing and Accessories, designed by me. 😉
For more ways to help the Lost and Tired family, please visit Help the Lost and Tired Family.