Okay…. Emmett's home now and breathing better.  🙂
Lizze and I were downstairs when Elliott came running downstairs to get us.  Behind him was Emmett, screaming at him not to tell us.
Elliott told us anyway and we learned that Emmett had crammed a Lego all the way up his left nostril.

Apparently, he was imitating something he saw on an episode of Ben 10 and this was the end result. 
We dropped Elliott off at my parents and headed off to Akron Children's Hospital.  Our experience with our local hospitals, hasn't always been positive, when it comes to our kids on the Autism spectrum.  The drive to Akron Children's Hospital was necessary and worth it. 
They got him back right away and while this was a first for us, it was not it for them.
We explained that Emmett was Autistic and we weren't sure how this was going to go. They knew just what to do and did it well.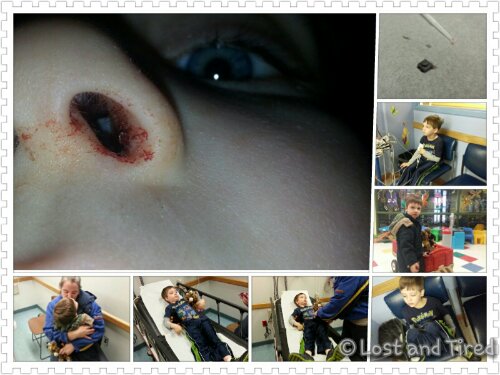 Emmett was wrapped up in a sheet to keep his arms restrained.  However, this actually had a calming effect on him and he was fighting anyone. 
Because there was so much inflammation, the doctor wasn't sure how easily the Lego could be dislodged or how big it actually was. Thankfully, it came out without a problem and Emmett never even flinched.
Afterwards, we talked to him about why we never put anything in our nose or ears.
The doctor also checked his ears and his other nostril to make sure that there weren't any stowaways. We are now back at home and trying to relax. 
I know how tempting it can be to shove Legos or other small objects into your nose.  I urge you to exercise restraint because it really isn't as fun as it looks. 

This site is managed via WordPress for Android, courtesy of the @SamsungMobileUS Galaxy Note 2 by @Tmobile. Please forgive any typos as autocorrect HATES me. 😉
Check out my #Autism Awareness Store to find really cool and unique #Autism Awareness Clothing and Accessories, designed by me. 😉
For more ways to help the Lost and Tired family, please visit Help the Lost and Tired Family.