My personal battle depression spans almost 2 decades. Like most things in life, I've had my ups and downs.  The same is still true today.
Everyday that I wake up, I struggle to stay on top of the depression.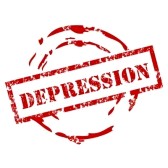 I've always tried to stay in control of it, instead of it controlling me. For me, it's better to look at it this way. Depression is a tricky bastard and something that is horribly, horribly stigmatized in our society. 
While I don't have the statistics on me, I do know that I am far from the only ones fighting this often misunderstood and invisible condition.
I take Paxil everyday to help me manage my depression and it does seem to help. There are many different medications out there to help with depression. At this moment in time, my doctor and I have been using Paxil. This is likely to change in the near future as I think I need something a bit different. 
Anyway…….
Depression affects many aspects of my life.  It affects my abilities as a parent, husband and friend. It's hard for me to stay focused on things and I often find myself unmotivated. 
I'm not as patient as I could be or would be otherwise and my frustration threshold is very low as well.
I've lost interest in things I used to enjoy.  I used to love playing video games but no longer have the attention span for them. I want to want to play them, I really do. I simply have no interest anymore.
Walking is something that I really do enjoy.  However, I have to really, really push myself to go.  I'm not lazy. It's more like a lack of motivation.
Depression even affects my writing. I can't always string two coherent thoughts together. This is really frustrating for me because writing has become such an important part of my life.
It's really weird because I don't want to feel this way but at the same time, I don't care.
I could go on and on.
The point is that depression can impact every aspect of a person's life. 
This is just a few of the ways it affects mine. 

This site is managed via WordPress for Android, courtesy of the @SamsungMobileUS Galaxy Note 2 by @Tmobile. Please forgive any typos as autocorrect HATES me. 😉
Check out my #Autism Awareness Store to find really cool and unique #Autism Awareness Clothing and Accessories, designed by me. 😉
For more ways to help the Lost and Tired family, please visit Help the Lost and Tired Family.