So we have two new families in our neighborhood.  Both families have dogs.  I was approached by the family across the street this morning to let me know that their dog had been attacked by the other families 3 pit pull terriers.
The family across the street have this cute Germany Shepherd mix that always on a leash and aside from barking on occasion, doesn't bother anyone. 
The other family down the street, has 3 pits, two of whom are preggers.

The three pits got loose again and went onto their property and attacked their dog, causing injuries to its left front leg.
I had shared this before but a few days ago, one of the pits got loose again and went after two little girls walking their tiny little dog.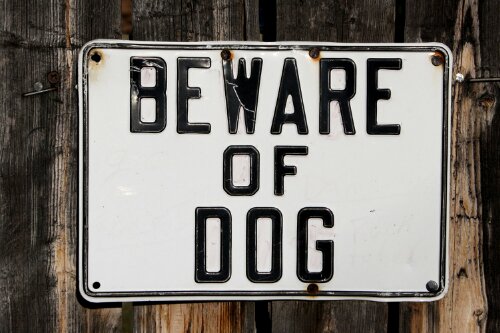 Lizze and I heard screaming and I ran out to see what was going on.  When I saw what was going on I ran over and picked the little dog up and distracted the pit so the girls could run home without being chased.
While I had the little dog in my arms, the out kept coming after me, trying to get to the little dog. 
Lizze was in the house trying to hold Maggie back because Maggie was trying to come through the Window and protect me. 
Anyway, because the first attack was not reported by the two little girls family, nothing was done.  My neighbors across the street called the dog warden after their dog was attacked but all that you as given was a warning. 
I'm totally not anti-pit. I mean, Maggie is an English Staffy. As aggressive as she looks she wouldn't hurt a fly and is absolutely amazing with the kids.  Plus we are responsible owners.
They are actually very gentle animals and make great additions to any family.
Having said that, it's all about the owners.  When you have owners that aren't responsible or let their dogs continue to escape the house, it becomes a problem. 
Anytime you have a pack of dogs running around you tend to see more aggressive behavior.
This is going to be a really long summer and I'm going to really have to make sure to pay closer attention before letting Maggie and Bella outside. 
Scary……

This site is managed via WordPress for Android, courtesy of the @SamsungMobileUS Galaxy Note 2 by @Tmobile. Please forgive any typos as autocorrect HATES me. 😉
Check out my #Autism Awareness Store to find really cool and unique #Autism Awareness Clothing and Accessories, designed by me. 😉
For more ways to help the Lost and Tired family, please visit Help the Lost and Tired Family.