Perhaps one of the most difficult parts of parenting a child with Autism and Sensory Processing Disorder, at least for me, is feeding them. 
While Gavin was absolutely impossible to feed when he was younger, he's no longer a picky eater and is quite easy to feed and prepare food for. 
My other two, Elliott and Emmett are very difficult to feed at mealtimes. 

In Elliott's case, he's always finding something wrong with the way things tastes.  There doesn't seem to be a rhyme or reason either.  Seemingly out of nowhere, something he's eaten for a very long time, will begin to taste funny.  He will literally go hungry before eats something that he feels tastes funny.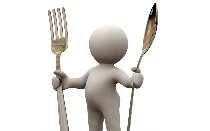 Unfortunately, for him, with a recent diagnosis of allergies to treenuts, his options are limited. Often times, I think he's actually afraid to eat for fear of having a reaction.
Over time, this has only gotten worse for him and us. 
Emmett is hands down the most challenging to feed.  Not only is he sensitive to taste, but also sensitive to color, smell and appearance.
With Emmett, typically I have to remake whatever I make for him to eat. 
Everything has to look the same.  For example, if he's having chicken nuggets, the breading, color, shape and size must be uniform or he won't touch anything.  We also can't have his food touching anything else on the plate. 
If he's eating pizza, the slice has to be either a clean cut square or triangle. The triangle has to be pointy or its considered broken and a meltdown is produced. 
There are only a handful of things that will please everyone.  Pizza is one of those things, although lately, Elliott will only eat certain pizza because he tastes the changes in recipes and will no longer eat it. 
As the cook in the house, it not uncommon for me to cook 3 different meals, for each meal.  I will also likely have to remake something, at least once (usually for Emmett).
Unlike Gavin, who did better as he got older, the other boys seem to be getting more challenging as time goes on.
Hopefully, things will ease up in the future because unfortunately, right now, way to much food is wasted.
What's your experience with this type of sensory/food issues? Do you have a goto food that works in a pinch? Have you noticed things getting better or worse with time?
Do have problems getting people to understand and support your child's sensitivity to things like food?

This site is managed via WordPress for Android, courtesy of the @SamsungMobileUS Galaxy Note 2 by @Tmobile. Please forgive any typos as autocorrect HATES me. 😉
Check out my #Autism Awareness Store to find really cool and unique #Autism Awareness Clothing and Accessories, designed by me. 😉
For more ways to help the Lost and Tired family, please visit Help the Lost and Tired Family.