If you recall, I wrote a post the other night detailing something that had just happened in our neighborhood (see Thankfully one was hurt tonight).
Basically, about 10 pm that night, someone rode through our neighborhood firing a high powered pellet gun at our house and my two neighbors houses as well.  My one neighbor got it the worst as this person with the gun blew out the back window of their Explores and also hit a window on the property as well. 
It was dark and so I didn't actually see any damage at the time. 

However, I was outside with Emmett this afternoon and I found three holes in our siding, all within a very short distance of a window.
I don't know much about pellet or bb guns but I do know the cops said that it really unusual for something to shatter a window the way whatever they were shooting did. 
It's clear that this person was aiming for windows and came very close to achieving their goal.
Thankfully, they missed because they would have shot right into the window belonging to Elliott and Emmett. 
Can you imagine what something like that would have done to any child, let alone two on the Autism Spectrum.  Elliott's anxiety alone would have been an absolute nightmare.
Whatever they shot with, hit so hard that it actually embedded fragments of the siding, into the foam insulation underneath it.
I'm not exactly sure what to do at this point.
I have no doubt that our windows would have shattered because they are original to our century old house.
I was speaking with some of my neighbors this afternoon and everyone is scared.  There are people that have been in there house for 30 years that are looking to move now. 
This is really sad. 
There much worse neighborhoods but honestly, we don't live there.  It's getting really dangerous here and there isn't really anything we can do but move.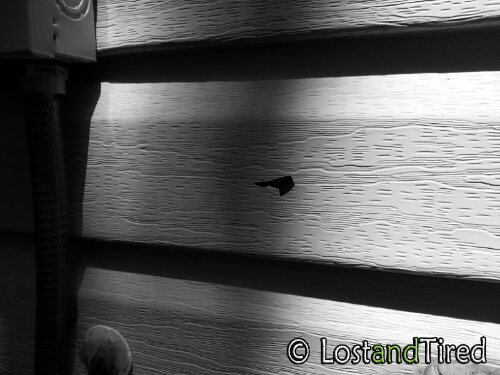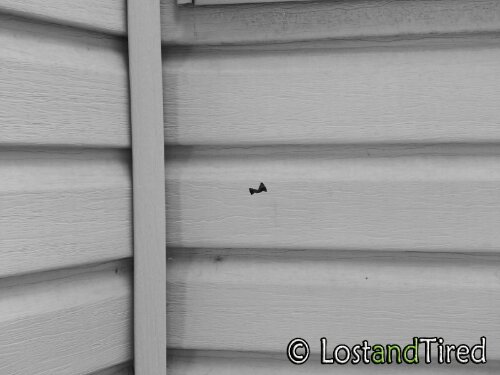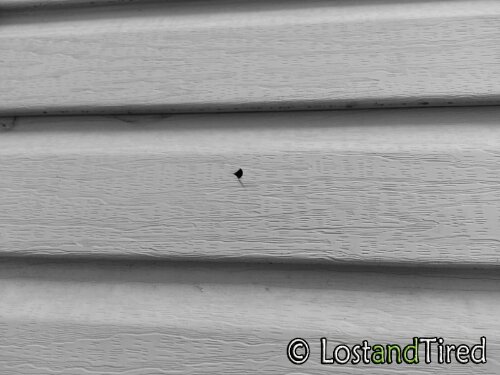 This site is managed via WordPress for Android, courtesy of the @SamsungMobileUS Galaxy Note 2 by @Tmobile. Please forgive any typos as autocorrect HATES me. 😉
Check out my #Autism Awareness Store to find really cool and unique #Autism Awareness Clothing and Accessories, designed by me. 😉
For more ways to help the Lost and Tired family, please visit Help the Lost and Tired Family.