I wanted to update all of you on what I found out about our van.  I met up with my Dad tonight and we pulled the codes.  Turns out the issue is that cylinder 3 is misfiring.
From what I'm being told, if the engine is misfiring, the transmission won't shift correctly.
This is good news because it's very likely that this can be fixed with a simple tune up.  Simple is actually the wrong word to use because it's actually extremely complicated. Some of the spark plugs are on the back of the engine block and there's no way to get to them without tearing a whole lot of stuff off in order to get access.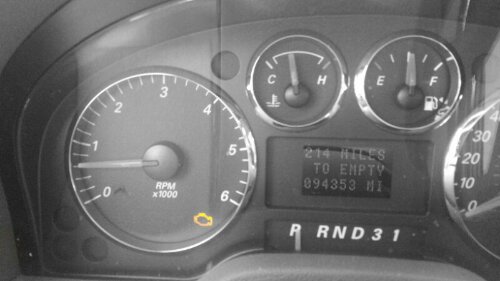 Interesting fact, that little yellow like means there is a problem with the emissions control. It looks like a service engine soon light but it's not.
There is also something wrong with the air intake.
If we do the tuneup ourselves, it's gonna run about $150. However, because of the level of difficulty, we may have to take it somewhere and have it done.  If that's the case, we're looking at about $500-$700.
Again,this is what I'm being told by people in the know.
Good news is that the transmission is likely just fine and the car actually driving fine now.  Having said that, we know this is a problem now so it's just a matter of time before it happens again.
This is one of those good news/bad news kind of things.
This site is managed almost exclusively via WordPress for Android. Please forgive any typos as autocorrect HATES me. 😉
Visit the My Autism Help Forums
To reach me via email, please Contact Me