My goal with this post is to educate.  I want people to understand what we go through and that can help you understand what others go through as well. 
The video included is not easy to watch but it's a key to helping you understand the struggles that families like mine often face.
There is a world of difference between a tantrum and a meltdown.

The most significant difference is that a tantrum is a willful act, with the goal being to manipulate or change the behavior of the people around them. A tantrum can be defused and the person having the tantrum can hear you and may be able to talk back or respond to your voice.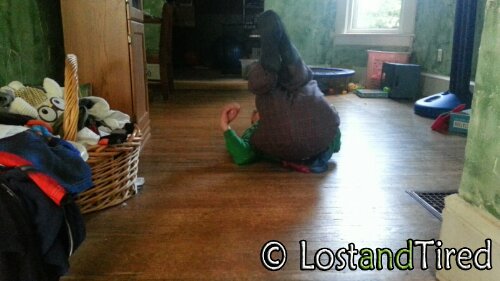 A meltdown is essentially the body purging because it simply can't cope any longer. This is completely outside the control of the person experiencing this phenomenon. A meltdown is not something that can be defused.  It simply has to run its course. In most cases, the person experiencing the meltdown  won't even hear you when you try to talk to them.
The video included with this post is of a massive tantrum that Gavin had the other day. 
This video may be difficult to watch for some and yet others may be able to relate. One thing that I ask you to keep in mind is the fact that this is not a meltdown.  This is a tantrum.
I handled this situation the way it needed to be handled.  Gavin is basically angry at us for holding him accountable for the choices he made.  I don't sweet talk or coddle him because this is a willful act and he's choosing to do be disruptive to the entire house. 
He will self-injure, call himself stupid and even ask for a hug.  He's also looking right at me most of the time. He does this to gauge my reaction.
These are all manipulative acts, meant to change my behavior. While I try to remain as calm as possible, I don't pull any punches and at times have to take an aggressive stance.
This is simply how Gavin needs to be handled and while I may seem mean, that's not the intent.  I have to control the situation so Gavin understands who's in charge and that his behaviors will not influence the decision to hold him accountable. This is how to best handle these situations. Our mental health support team has worked with us to cone up with a non-violent way of handling his tantrums.
Physically intervening is an absolute last resort.
If Gavin were having a meltdown, this situation would be handled much differently and with compassion because the meltdown would be outside of his control.
Warning: This video is loud and may be disturbing to some viewers.  Viewer Discretion is advised.
https://www.youtube.com/watch?v=JaSRDPthvbY&feature=youtube_gdata_player
This site is managed almost exclusively via WordPress for Android. Please forgive any typos as autocorrect HATES me. 😉
Visit the My Autism Help Forums
To reach me via email, please Contact Me