Today was a really weird day. I'm not sure how to describe Gavin right now. 
I could say weird and that would absolutely fit but it seems a bit harsh. It would be accurate to say that Gavin was off today, really, really off.
With Gavin's complexity, it's often hard to sorta put your finger on what's going on or find the words to describe his behavior.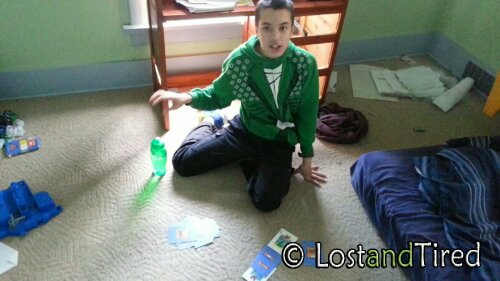 Behaviorally, Gavin's had a great day and I'm super proud of him.  I made sure to tell him that also. 
As far as health issues go, it was a strange day for him.  I wasn't sure if he was going into a crisis or getting sick.  Honestly, either one would be a bad thing for him. He was having tummy issues on and off today.  All of a sudden, he would sprint to the bathroom and yell that "my systems messed up".
This happened 2 or 3 times today and once after he went to bed. 
I guess it's a pretty big deal if he's on IVIG and still getting sick.  I'm not sure what that means but my understanding is that it's not a good thing.
In the wonderful world of Gavin's mental health, he's not doing any better.
He spent a great deal of time today, playing with his imaginary friends.  In fact, he spent more time in his room today than he did with the rest of us.
Something that concerns me is that he's hearing his name being called and it's not one of us behind the voice. He just seems to be decompensating more. This particular psychotic break seems to be lasting a bit on the long.
Son far though, we're all hanging in there.
This site is managed almost exclusively via WordPress for Android. Please forgive any typos as autocorrect HATES me. 😉
Visit the My Autism Help Forums
To reach me via email, please Contact Me