I haven't been writing as often as I usually do because we still haven't gotten our Internet connection turned back on yet.  I'm hoping to have that fixed around the 1st of the month. 
For now I'm doing everything from my phone, which isn't really breaking news because I always used my phone.
Having said that, my phone was usually connected via wifi, at least lately.  T-Mobile has been updating the towers in area to provide kickass LTE service.  For some reason the process has been going on for a few months now and my data connection is a bit iffy.

To be honest, I'm having flashbacks to my days with Sprint.  🙁
Thankfully, they are finally beginning to turn LTE on and it's now available in Akron, North Canton and now parts of Canton. 
Of course, I have to drive about a mile up the road to catch a reliable LTE signal but when I do it's amazing.  See the screenshot below. This is T-Mobile's LTE service at my parents house, 5 minutes up the road from my house.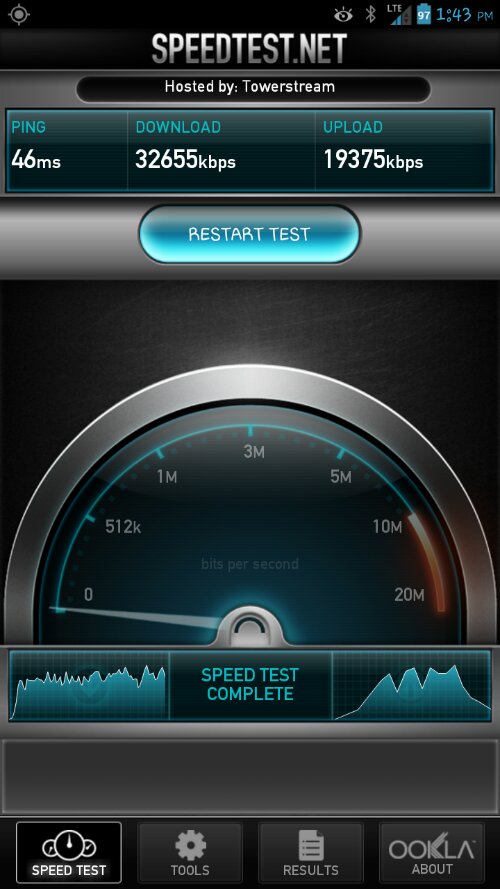 At home, I'm bouncing in and out of LTE.  It's almost like the they're testing the tower by my house.  Hopefully, this will get finalized really soon because my data is crap while they're doing these updates. 
Until either I get my internet at home restored or T-Mobile finishes the towers, I may be hit and miss.  While I can post, making changes or managing the site itself is not easy. 
This has been a rough month for us but I've learned to appreciate things a bit more as a result.
You don't realize how much you rely on the Internet until you have to go without it.  Yikes, it's like going through withdrawal.  I suppose that's pretty sad but that the way the world works anymore. 
Anyway, this got me thinking, what utility or luxury can you simply not go without?
Please share. 
This site is managed almost exclusively via WordPress for Android. Please forgive any typos as autocorrect HATES me. 😉
Visit the My Autism Help Forums
To reach me via email, please Contact Me