I'm awarding this a bit early today but I feel like this will definitely set the bar for the day.  Unfortunately, we had to remove Gavin's ability to play with Legos again.  He's has been hoarding them for himself and leaving his brothers with only a few pieces. 
He was given multiple chances but he didn't listen. 
This led to us having to take them away again.  The goal being for him to know what it's like to not have Legos to play with. That's what the other boys were feeling when he was hogging them all. 

He got mad and trashed his huge Lego ship that he had made and began winding up to throw a tantrum.
We sent the boys upstairs and kinda hunkered down to ride it out. Instead, Gavin decided to accept the consequences of his actions with minimal outburst. 
He made a fantastic choice.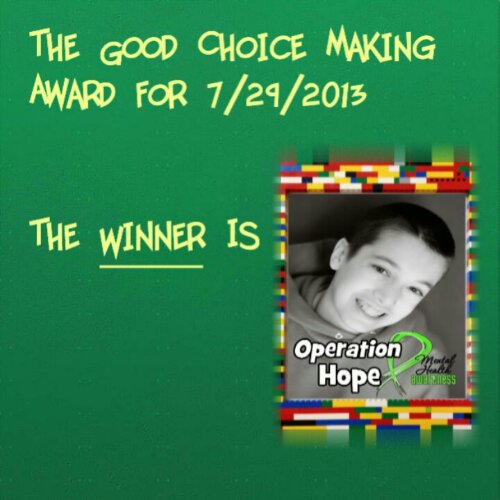 While one door closes, another one opens.  I say that because I wanted to reward his good choice by having him earn back his Pokemon cards he lost last week.  He had lost them for some really bad choices last week and was told that they would have to be earned back.
Today, he earned them back. 
I explained to him that there isn't always a reward for making a good choice.  We make good choices because it's the right thing to do.  We all make mistakes and we all have to deal with the consequences.  However, sometimes good choices are rewarded, especially in circumstances like these when he would normally have thrown a giant tantrum to punish us for holding him accountable. 
Instead, he made the right choice and was rewarded as a result. 
We can't do this all the time because a positive reward system gets exploited by Gavin.  However, by sneaking rewards in when he least expects it, the system is tougher to exploit. 
Good job Gavin.  We're very proud of you. 
This site is managed almost exclusively via WordPress for Android. Please forgive any typos as autocorrect HATES me. 😉
Visit the My Autism Help Forums
To reach me via email, please Contact Me