This vicious dog concern has been a problem for most of 2013. Honestly, we've had problems with stray dogs coming on to our porch and into our yard without our knowledge, for years.
Our backyard is completely fenced but it opens right up onto our front porch, with no gate to keep out unwanted visitors.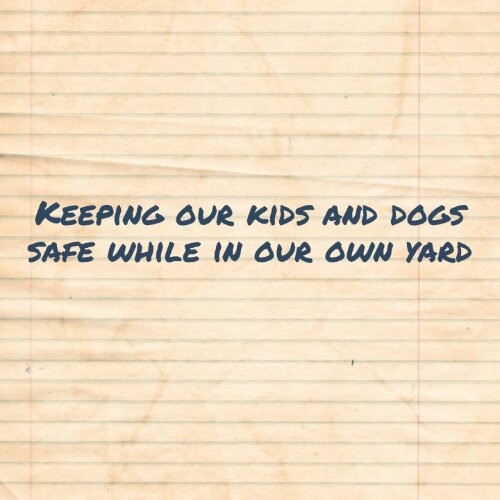 We had a few instances where we've let the dogs out, only to be surprised by a dog hiding around the corner of house.  Maggie and Bella are good with other animals but that doesn't mean that other animals are good with Maggie and Bella.
A year or so ago, we had a pack of dogs roaming the neighborhood, killing cats and scaring people. They made their way into our fenced in yard at one point but we saw it happen, so we weren't letting our dogs out.
I can't control what other people do with their animals. The only thing I can do to protect my family, is make things as safe as possible.
I'm thinking that the answer for now is to build a gate at the opening of our front porch, so to limit the ability of people and stray or unwanted animals from entering our fenced in yard and potentially injuring one of our dogs, or worse, one of our kids.
While that's not in the budget at the moment, I think it really needs to be prioritized because after what I witnessed yesterday, this is a major safety concern.
To be completely honest, I would feel better having the porch gated anyway. My kids haven't really ever been runners but they have done so on occasion.  This would also help to contain them, should anyone ever let themselves out of the house.
At this point, it's the only practical thing I can think to do.  This may be something that Wraparound can help us with. 
There's funding for weird but necessary little projects like this, squirreled away in various places.  You just need to find the right agency and find them at a time when funds are available. 
This gives me something to focus on and that a pleasant change for me.  This is a realistic goal and one that will have a positive impact on the whole family, especially in keeping our yard safer for the boys and their much loved canine companions, Maggie and Bella.
I think this is a realistic goal.
This site is managed almost exclusively via WordPress for Android. Please forgive any typos as autocorrect HATES me. 😉
Visit the My Autism Help Forums
To reach me via email, please Contact Me