Today has been one of those days where I'm really fighting the overwhelming feeling that I should just give up.
We've tumbled so far down the ladder at this point, I don't know what I can possibly do to get us righted and back on course. 
I've been on the phone with T-Mobile again this morning because we have almost no service at our house anymore.  Today has been especially bad and as you can see in the screenshot below, I can't even send a text message.

We can barely make or receive calls either. 
This means that we are almost completely cut off.  I'm going to have to walk two blocks just to try and upload this post and make a necessary phone call.
I realize that this is totally a #firstworldproblem but I'm feeling very isolated at the moment and now I can't do anything. At least that's how it feels.
I'm not sure when I'll be able to post again today.  Hopefully whatevers wrong with the service will get fixed soon and I can at least have Internet through my phone and of course have the ability to make and receive calls. 
I know it could always be worse but right now I'm just frustrated, demoralized and overwhelmed.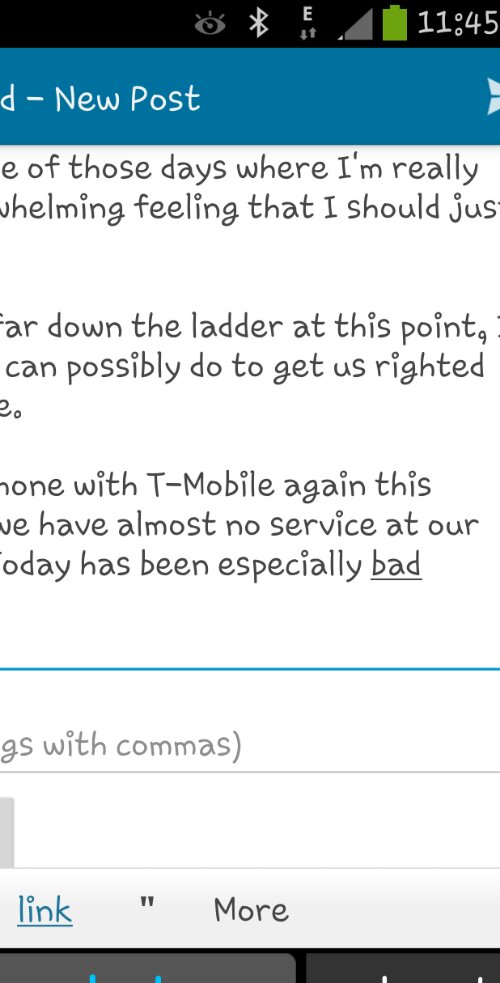 This site is managed almost exclusively via WordPress for Android. Please forgive any typos as autocorrect HATES me. 😉
Visit the My Autism Help Forums
To reach me via email, please Contact Me