I had a few readers mention to me lately that they had started to feel bad because it seems like I got it together and they feel that they are falling apart. 
This is something I wanted to clarify right away because I never want to make anyone feel that way.
First of all, I'm not perfect. If you don't believe me just ask my wife.. I can drive her crazy at times.  🙂 Seriously though, I make mistakes all the time, in fact, I discovered that I recently made a really big mistake. It was more of an oversight but wow, this was a pretty big one.  Look for this in a future post.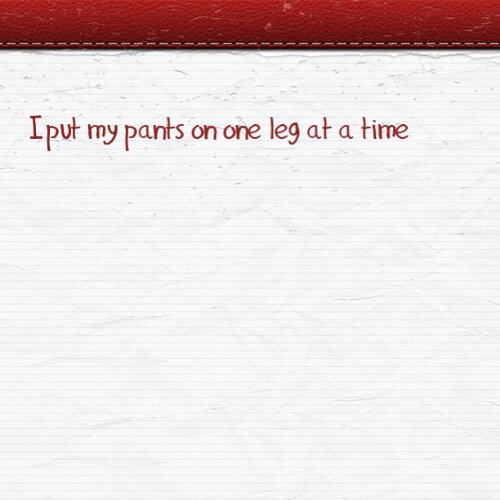 The truth is that I'm pretty comfortable with my life. I'm used to this and I simply don't know anything else.
It's not that I'm a better parent or have some type of super power.  I think that I just know my limits and do my best, not to push to far past them.
I have good days and bad days, just like everyone else.
When I get up in the morning, I put my pants on one leg at a time.  There are days that I have a little extra patience to go around and there are others that I barely make it through the day, literally. 
The other thing to remember is that when you compare yourself to someone else, you typically compare the other persons strengths to your weaknesses. This is a lose lose situation and it happens all the time.
Everyone's situation is different. 
There are people I talk to and think to myself, how in the bloody hell do they do it? My readers are the ones that inspire me and I truly mean that.
My hope is that by sharing my family's story, that I can help you to realize that you aren't alone.  I want you to know the things that I think and feel because I believe that it's okay to feel whatever we feel. We shouldn't be ashamed or embarrassed. 
I'm hear to remind you all that we are only human. 
Please don't ever feel like a failure because you read this blog and think that I handle things so much better.  I promise you that I make mistakes.  I feel overwhelmed, angry and resentful as well. 
You are all amazing and I truly admire you all. 
This site is managed almost exclusively via WordPress for Android. Please forgive any typos as autocorrect HATES me. 😉
Visit the My Autism Help Forums
To reach me via email, please Contact Me