Okay…  The doctor has been in and I think we have sufficiently confused him with all of Gavin's health issues. Gavin's renting and watching TV while they figure out what to do.
This is what happened.
My Mom called about 11am this morning and told me that Gavin was having vision  problems. She also said the his right eye was droopy as well.

She was able to learn from Gavin that this has been happening for awhile now. Thoughts were racing through my head. I was worried and frustrated because why the hell wouldn't he tell anyone about this before?
Lizze and I rushed over and spoke with Gavin.
According to Gavin, he was walking into the light and his vision got really blurry.  All he could see was purple and green.  He was very dizzy and his right eye became droopy. 
My first fear was stroke or TIA. However, after talking to him, it feels like an impending Autonomic Crisis.
We got him right to the ER at Akron Children's Hospital and are now waiting to figure out what's going on. When we walked him in to the hospital, we had to basically hold him up and keep him from tripping over his own feet and walking into walls.
As we're sitting here, he's acting weird and I'm worried.
Please keep him in your thoughts and prayers and I'll try to keep everyone updated. 
Thank you.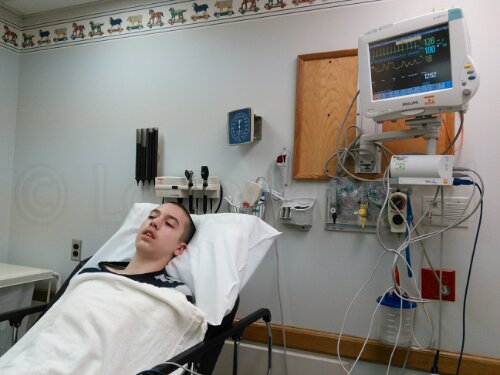 This site is managed almost exclusively via WordPress for Android. Please forgive any typos as autocorrect HATES me. 😉
Visit the My Autism Help Forums
To reach me via email, please Contact Me