Product: Weight On Me Weighted Blanket
Weight On Me's Facebook

Weight On Me Weighted Blanket Product Description
Size: Twin-Sized "Teen/Adult" Blanket 42×72″
Price: $117.00
Where You Can Purchase: Webstore
Colors: Various
My Review
A few months back, Weight On Me contacted Rob offering to send weighted blankets for Gavin, Elliott Richard, Emmett John and myself. Emmett John already had one but the rest of us were in desperate need of our own, so we were incredibly grateful for their kindness.
Their webstore was helpful during the ordering process. They outline tips and guidelines for choosing the size of your blanket and the proper weight. They also have an extensive fabric gallery from which to choose the fabric pattern for your blanket and corresponding "flannel" backing. There is something for everyone (seriously)!
There are also numerous points throughout the page with a link to contact information in case you should have questions or feel that the blanket size and weight suggested for your situation is wrong, for whatever reason. They really are very helpful and customer oriented.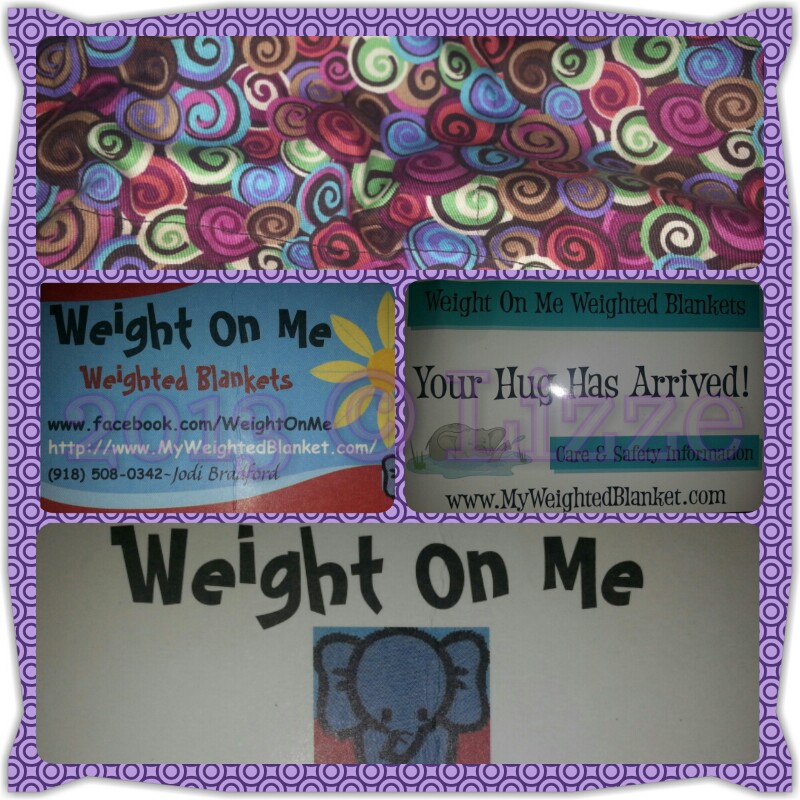 When the fabrics for our blankets had been chosen along with their "flannel" backs, we sent in our orders and prepared to wait rather anxiously for our new "heavy lovies," as we call them. Considering something that seems rather extensive to create and is certainly rather heavy, our order was here in virtually no time at all. From order to doorstep, it took about a week.
My blanket is amazing. I chose a multi-colored circular dot patterned heavy fabric that I felt I wasn't likely to "outgrow" or bore me as time goes on. For my "flannel" backing I chose a purple/lavender color. When they stated it was a "flannel" backing I was expecting something like a cheap, overly fuzzy flannel shirt. What they use feels more like a crushed, soft flannel, almost bordering on velvet. I'm big into textures and incredibly picky when it comes to what blankets I use based on their texture so I was concerned that I would receive my beautiful blanket and hate the back. That couldn't be farther from the truth.
As for the weight and overall feel of my blanket (beyond the backing and fabric choices, that is), it is heaven. I intentionally ordered my blanket heavier than suggested because I am using mine for chronic pain and restless legs at night. However, the Boys blankets were all ordered according to Weight On Me's suggestions, while they feel light to me, they are perfect for the Boys. Elliott Richard often carries his around the house with him to snuggle. It's a wonderful thing watching him snuggle under it and feel safe and secure. Emmett John and Gavin are both sleeping better with their weighted blankets to help them feel calmer before bedtime. Emmett John often falls asleep in half the time it took before.
Overall, I couldn't have been happier wth the Weight On Me company, their site or their product. We've had a few different weight blankets and styles throughout the years and I firmly believe that Weight On Me is the best we've ever had.
Disclaimer: I was given my Weight On Me weighted blanket as an act of kindness. While I am forever grateful for their kindness, I was not given this product for review or in exchange of a review. I am in no way committed to writing a positive review; all reviews are my own thoughts and opinions. I am disclosing this information in accordance with the Federal Trade Commission's 16 CFR, Part 255: "Guides Concerning the Use of Endorsements and Testimonials in Advertising."