I was going to try and find some witty way of doing this post. I was going to try and find some humor in it because I'm trying to be positive. Unfortunately, I just can't make that happen without being totally disingenuous and I'm not going to do that.
Today has been a trial of patience for both Lizze and myself. It's only 8:30am and I'm already done for the day.
Here's the deal…

Emmett woke up in a good mood. He woke up early and climbed into our bed to snuggle. Who isn't up to snuggle one of their kids in the morning? In fact, I thought to myself, oh thank God he's in a good mood today because that will make for a good morning.
Unfortunately, that prediction would not hold true.
What we faced this morning was a massive, massive meltdown over what Emmett was going to wear on his feet.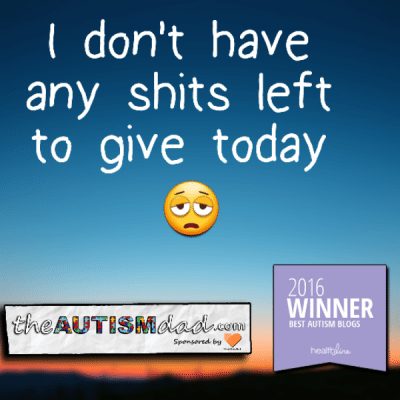 We tried every single pair of crocs, shoes, flip flops, slippers, socks and sensory techniques but nothing worked. He became increasingly upset and much like Mt. Saint Helens did on May 18th, 1980 – he blew his top.
He screamed and screamed, lashing out at anyone who tried to help him. There wasn't anything we could do to console him.
This went on for the better part of an hour before he finally decided that he would wear his flip flops because they felt the least uncomfortable, if that makes sense.
While he did put them on, we packed his socks and slippers in his bag, just in case he needed other options later.
He was upset the whole way to school but he calmed down a little before giving me a hug, getting out of the car and heading into school.
I physically shook the whole way home and collapsed on the couch when I got there because this whole morning took from me, everything I was going to need to move forward with the day.
I don't have any shits let to give today. I used all my shits up this morning, just trying to help Emmett put something on his feet so he could go to school.