This is a long overdue post about something that I have put off sharing.  I'm always writing about Gavin and the challenges associated with him, not because he's a bad kid but because he takes up so much of our lives.
You can't have a child like Gavin, without investing a significant amount of time and energy into him, every single day.
Emmett has been another topic because he's got his fair share of challenges as well.  When Emmett was little, he had no language ability and he appeared to be deaf as well.  As a result of major communication issues and frustration from not being able to express himself, he was very aggressive.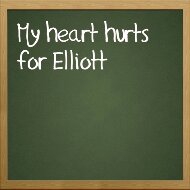 Lizze and I poured ourselves into him, in an attempt to intervene and try to give him the best chance at life possible.  It paid off.
Then there is Elliott.  I'm ashamed to say that Elliott sometimes got lost in the shuffle.
While Elliott was diagnosed with Aspergers, he was as close to a typical child as we were ever going to get.  Elliott was very social, sweet, loving and kind.  We didn't have any of the challenges his brothers did.  In fact, Elliott was almost benefiting from being on the Autism Spectrum.
Lizze and I did everything we possibly could to find some sort of balance between all the boys. 
We were very aware of all the time that Emmett and Gavin were requiring from us and we were worried that Elliott would slip through the cracks. 
The sad truth is that when your facing the unimaginable challenge of raising three boys with special needs, you have to employ some sort of triage.  There has to be a priority system in place so that you can figure out who gets what.
In Elliott's case, he was doing so well and the other two weren't. Despite our continuous efforts to ensure that everyone got from us what they needed, I fear that in some ways, Elliott slipped through the cracks.
Elliott's gone from the quiet, sweet, gentle, loving little boy to someone that's become very angry and volatile.  Don't get me wrong, Elliott still possess all those amazing qualities and more.  The problem is that he's become very, very anxious.  He carries the weight of the world on his shoulders. 
He can be emotionally explosive.
If you met Elliott in real life, you wouldn't believe he's only 7 years old.  He's so intelligent and wise, well beyond his years. 
Despite all that, he's still a little kid on the inside and sometimes our lives are simply too much for him.  I mean, Lizze and I struggle to cope and we're both adults.
Elliott's doing really well at school but when he's at home, he's become very defiant and standoffish. He won't do what you ask without freaking out and he cries at the drop of a hat. 
He's in therapy every week and Dr. Pattie has known him since birth, son that helps.
It's really hard for me to talk about this because what further complicates this for me is that fact that I'm so close to Elliott, as he's my first born.
Lizze's pregnancy with Elliott was not good.  She was on bed rest almost the entire time and in preterm labor for many, many months.
When Elliott was finally born, it was early and he came very close to dying.
Watching him be delivered and cutting the cord, was the most amazing experience of my life, up to that point.  The elation quickly turned to terror, heartbreak and fear as both of his tiny lungs burst and he fought pneumonia, while spending almost the first two weeks of his life in the NICU.
A bond was forged in the moments we shared, as fought for his life. 
Elliott and I have a very close relationship and always have.  I don't love him more than the other boys, it's just a bit different and it makes what he's going through right now, very difficult for me. 
My heart is breaking because he's struggling so much. We're doing everything we possibly can to help him through this. 
I feel like Elliott needs as much control over his life as possible because so much of his life has been out of his control. He doesn't strike me as wanting to be difficult, it's just that he's so overwhelmed and anxious that he just can't take it sometimes and he freaks out. 
There are time that he's being difficult and digging his heels in, just to be difficult. 
In many ways right now, Elliott is the most emotionally exhausting child in our house.  When he's upset, it just sucks the life out of the room. 
He has plenty of really good days but most days include at least several meltdowns.  Our last appointment with Dr. Pattie had us discussing oppositional defiance in regards to Elliott.
At this point, all I can really do is be there for him and to guide him through this darker time in his life.  Lizze and I both are working really hard to help him out in every possible way. We've tried medications for anxiety but so far, he hasn't handled them well and they had to be discontinued. 
I will try to keep you all informed as to how we are managing with this. 
Thank you all for listening.  I really appreciate it. 
This site is managed almost exclusively from my Galaxy S4. Please forgive any typos as autocorrect HATES me. 😉
Follow @Lost_and_Tired

"Like" me on Facebook

Visit the My Autism Help Forums
To reach me via email, please Contact Me
Setup of an account with Bluehost and I get paid. If your looking for a host for your website or blog.
Click the image below and check out Bluehost. It's what I use.