Gavin had a pretty good day at school today.  Unfortunately, he post a point in Math class once again for getting frustrated. 
I gotta be honest, I'm not sure I agree with this point system being used this year.
There has to be some sort of accountability but some of the reasons these kids are losing points seems really   petty. There isn't a set guideline for what behavior requires the loss of a point.  It's essentially up to the teachers discretion. 

Elliott lost a point today as well.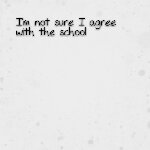 According to him, they were doing a worksheet and the teacher instructed the class that they were supposed to skip some of the problems because they were too difficult. 
Elliott says that he didn't hear that because other kids were talking. 
Instead of skipping the problems that were supposed to be too difficult, Elliott completed them.  He ended up losing a point because he didn't follow the directions. 
I get that he has to follow directions (that's important) but his only crime was essentially doing problems that he didn't have to do and in fact, were deemed too difficult.
Now I know there are two sides to every story and quite frankly, this isn't a big enough deal to warrant anything being done.  Elliott was upset but he'll survive and I don't want to be one of those parents (whatever the hell that means).
The bottom line is that the boys are doing well and while it's not perfect, it's the best environment for them and they need to learn to adapt.
No school is perfect but our school is outstanding overall. 
As their parents, we will keep a close eye on things and be there if the need should arise. 
This site is managed almost exclusively from my Galaxy S4. Please forgive any typos as autocorrect HATES me. 😉
Follow @Lost_and_Tired

"Like" me on Facebook

Visit the My Autism Help Forums
To reach me via email, please Contact Me
Setup of an account with Bluehost and I get paid. If your looking for a host for your website or blog.
Click the image below and check out Bluehost. It's what I use.