I've literally been down all day and that means that Lizze has had to do all the things I normally do.  That may not seem like a big deal but there is a very good reason she wasn't doing them anymore.
She handled the IEP meeting this morning and did a great job.
This isn't downtime isn't something that I'm enjoying. While I can deal with the pain, my legs keep (the left one in particular) giving out.  I have no control over that.  It's like my body is physically enforcing limitations on the rest of me. 

I have an L5/S1 left sided herniation.  The pain was supposed to go away inside of six months but that was 12 years ago.  There is a genetic component to this because my younger brother suffered a very similar injury, at almost the same time. While mine is worse, his never got totally better and he still deals with pain on and off.
All it takes is simply stepping wrong and I can be down for a week. 
This time is different and I'm in the worst pain I've been in since I hurt myself in the first place.  I'm going to need a few days to try and regain my mobility.
The real kick in the berries is the fact that no matter how I sit, stand or lay down, it hurts like a bitch. Sleep is all but impossible at the moment. At this point, it's all about surviving until I can move around again. 
I guess that's that. 
Thanks for all the thoughts and prayers.  I also want to thank Lizze for doing all she can while I recover.  Thanks honey, I know it's not easy and I'm really, really sorry that I've put you in this position.
Here's the picture I posed for that triggered this entire thing.  It's seems harmless enough but knew the moment I knelt down that I was in trouble.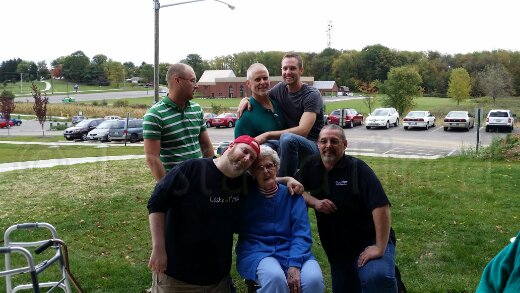 This site is managed almost exclusively from my Galaxy S4. Please forgive any typos as autocorrect HATES me. 😉
Follow @Lost_and_Tired

"Like" me on Facebook

Visit the My Autism Help Forums
To reach me via email, please Contact Me
Setup of an account with Bluehost and I get paid. If your looking for a host for your website or blog.
Click the image below and check out Bluehost. It's what I use.