The reason I began blogging three years ago was really simple.  I needed an outlet and my wife had been encouraging me to write in a journal.  As a tech head, I decided to do this digitally and Lizze helped me get started with a very simple blog.
I was dealing with lot at the time and I needed a safe place that I could vent and walk away. 
As much as I hated writing back then, it really did seem to help. I wasn't a polished writer back then, nor am I today.  I just wrote what I was feeling and never expected anyone to ever read it. 

I don't even remember how but people began finding my site and leaving comments. I do remember thinking how amazing it was to read that there were people out there that could actually relate to what I was experiencing.  Believe it or not, up to that point, I honestly thought I was alone.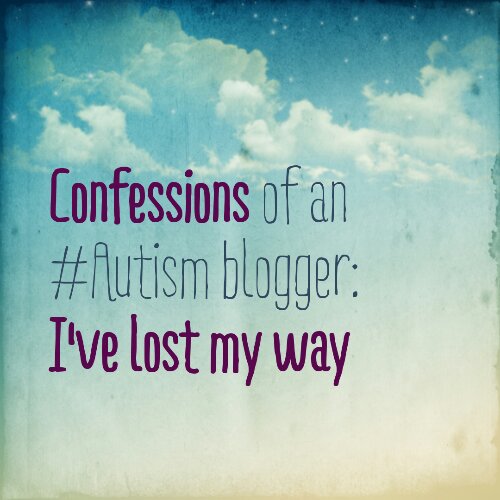 Over the next few years, things kinda blew up and Lost and Tired became pretty popular. 
I've reached a point where there is so much demand for my time, both personally, with my family and professionally (and I use that term quite loosely) with this site.  I'm spread really, really thin and I feel like I've hit a roadblock. Writing doesn't flow the way it used to. It's difficult and feels forced. 
This has been driving me crazy but I think that I've been trying to be too many things for too many different people.  In a way, I've lost sight of why I began doing this in the first place. 
My mission has always been to reach other families and let them know that they aren't alone.  I wanted them to know that they weren't the only ones feeling the way that they do and it's okay.  I know what it feels like to be alone, isolated, frustrated, overwhelmed, scared and exhausted. I know how scary Autism can be.
I want something positive to come out of my family's struggle.  I think that I've lost my way and I need to find it again, in order to get back to what's most important…..
What I'm going to be doing is trying to focus on what got me started in the first place.  I'm going to be sharing more of my personal feelings and experiences. 
Sometimes when you lose your way, you have to retrace your steps in order to find it again.  Right now, that's my plan.
This site is managed almost exclusively from my Samsung Galaxy Note 3. Please forgive any typos as auto-correct HATES me. 😉
Follow @Lost_and_Tired

"Like" me on Facebook

Visit the My Autism Help Forums
To reach me via email, please Contact Me