Today was one of those days where it just seemed to drag on forever.  Lizze and I didn't sleep well last night because Emmett and Elliott kept taking turns waking up.  It was awful.
Gavin slept through the night after his little health scare and getting what turned out to be reflux pain, under control.
When we woke up this morning to get the kids to school, the friggin van wouldn't start and so we ended up with an unexpected three day weekend.  In truth, we may have kept Gavin home anyway because of how bad of shape he was in last night.  The boys weren't to tore up over have to stay gone from school today.  😉

When our day began, Emmett was really having a rough time. 
He was likely exhausted from lack of sleep the night before and perhaps still a bit overstimulated from Mad Scientists Night on Thursday evening. He lived through a few meltdowns today but nothing too catastrophic.
We did managed to get a few things accomplished this afternoon.  Both of the boys bedrooms were gutted, cleaned, organized and vacuumed. I eventually got the van started and got some errands done.
I had to get a medication mix up fixed today also.  I has a conference call with both Walgreens and the Cleveland Clinic this afternoon, trying to get his salt tablets refilled. This little fiasco has let Gavin salt tab-less for most of the week.  Everything should be fixed now and I'll be able to refill them in the morning.
Lizze has been sleeping a lot today. Life wasn't too kind to her this week and she's not in a good place right now. 
She's decided to at least postpone her headache infusion and Botox injections, scheduled for next week. These were scheduled in order to try and treat her 2.5 year old migraine.  However, we had love decided to aggressively ensue the Ehlers-Danlos syndrome evaluation because that would explain a great many things and even possibly change her treatment options.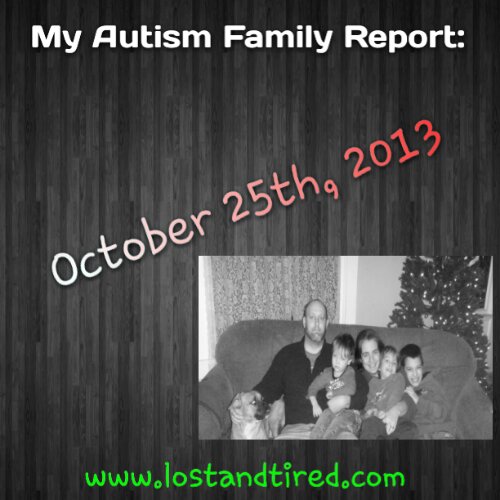 The boys went to bed on time tonight because they have a busy day planned for Saturday.  I'll tell you more about that later. 
Lizze and I are probably going to crash pretty early tonight.
We've been watching the show called Police Women of Dallas, on Netflix.  It's about female police officers and it's a really good show, especially if your a survivor of domestic violence because these women are putting aggressive, violent men in their place.
It's pretty cool and Lizze really enjoys watching it. 
That's about it for today.  You can go back a few posts if you want to see some of the artwork posted yesterday, but other than that, this about sums up this Autism Family's day. 
Thanks for reading and I look forward to your comments and questions.  🙂
This site is managed almost exclusively from my Samsung Galaxy Note 3. Please forgive any typos as auto-correct HATES me. 😉
Follow @Lost_and_Tired

"Like" me on Facebook

Visit the My Autism Help Forums
To reach me via email, please Contact Me