I'm still kinda freaking out right now but here's what happened.  I was in the living room trying to make some progress on the Autism Help Forums, when I heard some noise outside the house. 
As I walked up to the front door and began to open it, I noticed two kids (maybe late teens, early twenties), riding bikes.
This was kinda strange because it was about 9:15pm and quite dark outside. The dogs were barking and I was going to step outside and see what was going on.

As I opened the door, the one kid reached out his arm and fired a shot.  I'm not positive that the shot was meant for me but to be honest, I was the only one out there at the time and the gun was pointed in my direction.
I wasn't hit and as far as I can tell, my house wasn't either. 
After the shot was fired, they casually rode off down the street as though nothing had happened.  As I watched them ride away and turn around the corner, I saw one rider pass the gun to the other and fire off two more shots at house around the corner. 
I was already on the phone with 911 and I heard two additional shots.  That made 5 in total so far. 
My neighbor was outside and I went over to make sure they were okay and let them know what had happened.  The police arrived in force within 3 or 4 minutes and spread out in search of the shooters.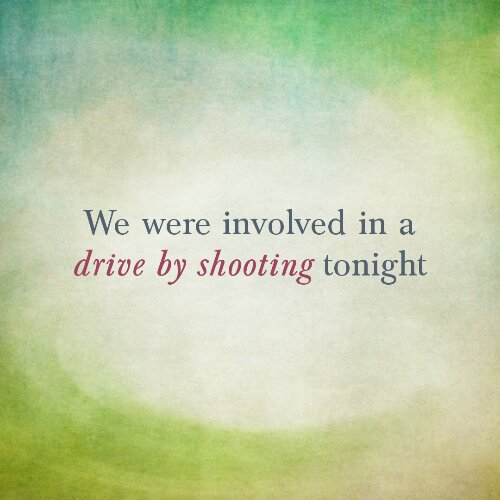 As I was talking to one officer that pulled up to ask questions, there were 2 more shots and he had to speed off in their direction. 
In the morning, I'll look to see if the house was hit. 
This is really scary, for obvious reasons but also because of how carefree they seemed to be as they rode their bikes and fired shots as they go.
I don't think I'll be sleeping tonight because this has got my adrenaline flowing and I'm still shaking. The cops are still driving around but I doubt they will find them. 
What's wrong with people anymore?
This site is managed almost exclusively from my Samsung Galaxy Note 3. Please forgive any typos as auto-correct HATES me. 😉
Follow @Lost_and_Tired

"Like" me on Facebook

Visit the My Autism Help Forums
To reach me via email, please Contact Me