As a father to 3 boys with Autism, I have a vested interest in seeing the Autism Community succeed in supporting each other, spreading Autism Awareness and not only preparing our kids for the world, but also preparing the world for our kids. 
I've noticed something that I find very concerning and I thought that I would use my blog as a platform to express that concern. 
Something that I find really concerning, is the current status of at least some of the Autism Organizations out there. These organizations are supposed to be here to help people with Autism and their families.  I'm not sure that they are doing what they should be doing or rather could be doing to help improve the lives of real life people…..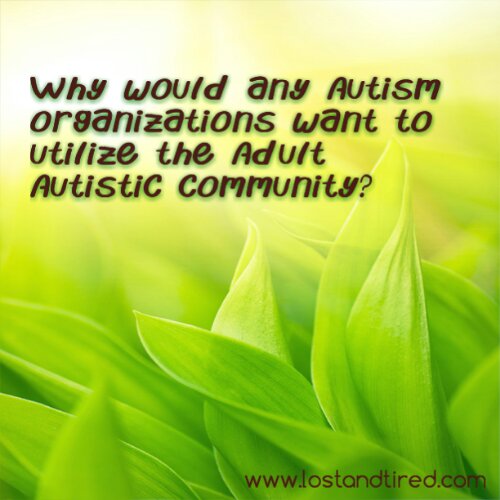 As an adult that does not have Autism, raising 3 boys that do, I can say that one of the most beneficial things to come my way have been the friendships I've made with Adult Autistics. Talk about an amazing source of insight and advice…
Not only are they awesome people and great friends, but they have been able to help me better understand the how's and why's of my own kids on the spectrum. 
I think it's commendable that these organizations try to help, I really do. That being said, I think they are missing out on a great opportunity to better understand the people they are trying to help.
Let me say this another way.  If you are going to try and help people with Autism, wouldn't it make sense to tap, utilize and even employ people with Autism for guidance, insight and advice? These organizations push other employers to hire people with Autism, why not lead by example?
We have a large and ever growing population of Adult Autistics in the world that are ready, willing and able to help.  This help is invaluable and comes in the form of experience, insight and much more.  We simply have to recognize that they exist, be willing to give them the time of day and take them seriously.
Seems pretty simple right?
I think it's egregious and even a bit arrogant that it's sometimes presumed that we know more about what people with Autism need or want than they do.
I know that many of us are parents to a child with Autism. It's easy to get caught up in that parenting role and often forget that our kids are teaching us at least as much as we are teaching them.
Autistics can be a huge asset to these Autism organizations and the fact that many of them give no representation to the people actually living with Autism, just makes no sense to me. How many of these organizations have an Autistic person sitting on their board?
It almost seems counterintuitive. Doesn't it?
So what's the deal?
This doesn't seem like rocket science to me.  In fact, one of the things that I'm focusing on as I become more involved  with the Autism Society of Greater Akron, is trying to ensure that we have persons with Autism intimately involved.  I think this is extremely important. There is so much we can learn from the people we are trying to help. All we have to do is listen.
On a side note, I'm also looking for more people with Autism to join the My Autism Help Forums.  I'm always looking for moderators, a willingness to share personal insight and experience, as well as people that are willing to help parents like me, better understand our kids with Autism. If anyone's interested, I would love to talk to you.  🙂
This site is managed almost exclusively from my Samsung Galaxy Note 3. Please forgive any typos as auto-correct HATES me. 😉
Follow @Lost_and_Tired

"Like" me on Facebook

Visit the My Autism Help Forums
To reach me via email, please Contact Me