I wanted to give another example of a seemingly simple task that has been rendered nearly impossible by Autism related issues.  In the picture below, you can see Emmett wearing his shoes and socks.
You may be thinking, why did he take a picture of Emmett's shoes?
The reason is simple.  He's actually wearing them.

You see, wearing shoes is not something that comes easy for Emmett.  He can't stand the way they feel on his feet.  The same goes for socks as well.  Actually, to be honest, on the most basic level, he can't stand clothes period.
While many parents can get up in the morning and think nothing of getting their child dressed and ready for school, I'm not one of those parents.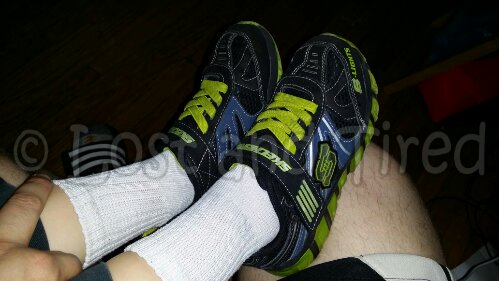 Because Emmett struggles with sensory input, the sensation of clothes on his skin is something that is often described as itchy or painful. Those are Emmett's words, not mine.
The seemingly simple or mundane act of putting his shoes on is anything but.
I may have to put his shoes on him and take them back off, before putting them on once again and then having to remove them again.  This process can repeat countless times until they feel right.
Truthfully, there have been times where we've had to keep him home from school because he was so distraught over how his clothes felt that he was literally vomiting.
We have no problem trying to desensitize him to these clothing challenges but we will only push so far and when he's that upset, we immediately stop.  It's simply not worth putting him through that.
Perhaps that not the right thing to do but I don't have the heart to do that to him.
Ironically, there are times that his shoes and socks can go on without a single problem.  There doesn't appear on the surface, to be any rhyme or reason to these immediately successful attempts.
Over the years,  we have learned that his shoes and socks have to tight and I mean almost cutting off his circulation tight.
What have you experienced with your child? Does any of this sound familiar to you? Please share your story below in the comments and help others to better understand.
This site is managed almost exclusively from my Samsung Galaxy Note 3. Please forgive any typos as auto-correct HATES me. 😉
Follow @Lost_and_Tired

"Like" me on Facebook

Visit the My Autism Help Forums
To reach me via email, please Contact Me