Emmett's in a bad way tonight.  He's entering into a painful fever flare. For those that don't know, Emmett has something called PFAPA. It's a rare fever disorder that causes him to run fevers for no reason, while his mouth breaks out in painful sores. 
These flares typically last about 10 days and show up about every 3 or 4 weeks. 
However, for the past year, this schedule has been thrown off.  I have no idea why this has happened but after disappearing for many months, they reappeared a few ago. 

So far, the schedule has been very unpredictable the flares returned.  He had one really bad flare that required a trip to the hospital but the rest have been weird. By weird I mean that sometimes they start up and then just go away. Other times they sorta start, then stop, then start again. 
I'm not sure how this one is going to go but it's not looking good.  He got a huge sore on the tip of his tongue and a bunch showing up along his gum line.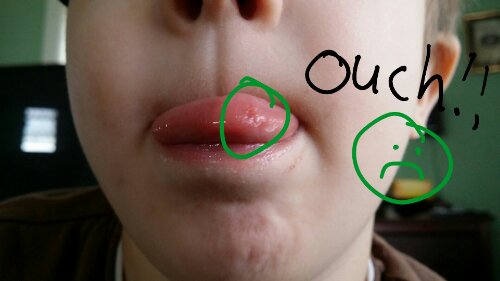 He's drooling a lot, bouncing off the walls and asking for help with the pain. 
All we can do is cycle between Motrin and Tylenol.  I bought some ice cream because that's about all he'll eat until they're gone. 
Please keep Emmett in your thoughts and prayers because this is a very painful time for him.  He doesn't understand but he knows that it hurts. 
We have yet to have a flare up this school year, so I have no idea what we can expect on Monday.  The fevers aren't too bad anymore but the mouth sores make him miserable and he very quickly becomes overstimulated….
You all know what overstimulation leads to.  🙁
Thanks everyone.  I really appreciate it. 
This site is managed almost exclusively from my Samsung Galaxy Note 3. Please forgive any typos as auto-correct HATES me. 😉
Follow @Lost_and_Tired

"Like" me on Facebook

Visit the My Autism Help Forums
To reach me via email, please Contact Me