Why is it, that in one moment, I can feel pretty destitute and then a bit later be full of hope? I know that I'm depressed, but outside of that I'm pretty emotionally stable, at least I feel that I am.
There are times during the day when I literally feel the weight of the world on my shoulders.
I can feel like no matter what I say or do, I'm letting someone down. It's a pretty horrible feeling that I've become accustomed to anymore. At the same time, I recognize that I'm doing everything I physically and emotionally can for my family and everyone else that relies on me for one reason or another.

To be honest, I don't know that I would really call these mood swings, but I suppose that would be one way to describe it. I think it's more like a frequent shift in perspective.
Does that make sense?
I can envision that it's pretty common for parents in general, let alone special needs parents, to be really hard on themselves. That's certainly true as far as I'm concerned. Personally, I'm really hard on myself for what I perceive is failure.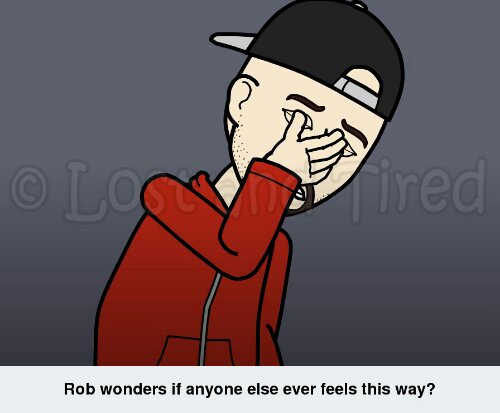 What qualifies as failure? Pretty much anything that falls short of what my wife and kids deserve, at least in my view. I think that this is one of the reasons that I can feel horrible Sometimes.
Take Gavin for example. I can't tell you how guilty I feel that his life has evolved the way it has. His health is so fragile and his emotional state is beyond complicated, to say the very very least. I feel like I should be able to fix him (health wise and mental health wise). I should be able to remove his burdens and allow him to just be a kid. For the record, I'm not referring to Autism here. I'm talking about all his health issues and the serious mental health issues, that plague him.
At the same time, I know that I've done everything in my power to help him and I'm still pushing.
Is it reasonable for me to feel so guilty or feel like a failure?
Honestly, I don't even know where this post is going anymore. I think I'll stop here and leave it as is. Perhaps it's something that someone can relate to. Who knows? It's just what I was thinking.
This site is managed almost exclusively from my Samsung Galaxy Note 3. Please forgive any typos as auto-correct HATES me. 😉
Follow @Lost_and_Tired

"Like" me on Facebook

Visit the My Autism Help Forums
To reach me via email, please Contact Me