Gavin had another Autonomic Crisis this morning.  We went to conferences and Gavin was with us. By the time we dropped the E's off at my parents and arrived at the school, Gavin was ready to pass out. 
If you look at the picture below, you can see what he looks like when he on the threshold of an Autonomic Crisis.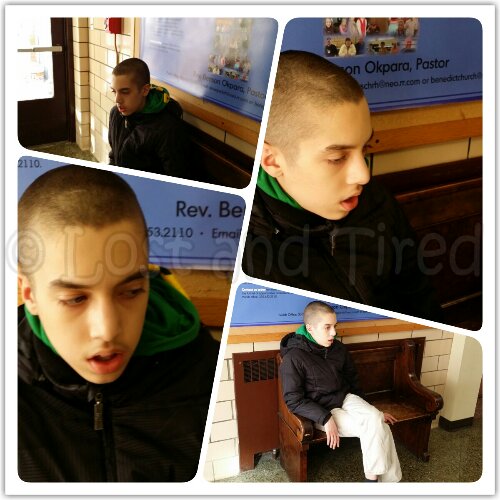 As you can see, he looks like death warmed over.  While Lizze was filling out papers, I had Gavin just sit down for a little while.  Sometimes this is the best thing we can do. It sorta helps his body to equalize his blood volume.
It took the better part of two hours but he stabilized and is doing better right now.
It's important to understand that every Autonomic Crisis does not require him to be hospitalized. It just depends on how bad he's affected. Today's crisis had him very disoriented, lethargic and most likely heart rate and blood pressure issues.
With Gavin's health, it's literally touch and go. That's a large part of what makes life so difficult anymore. I'm always worried about the slightest thing causing him to go down. We have to be ready to intervene at the drop of a hat because this is a life threatening condition.
Thankfully he pulled out of this quickly and didn't need to be taken to the ER. For that, we are very grateful. 🙂
This site is managed almost exclusively from my Samsung Galaxy Note 3. Please forgive any typos as auto-correct HATES me. 😉
Follow @Lost_and_Tired

"Like" me on Facebook

Visit the My Autism Help Forums
To reach me via email, please Contact Me