It's never easy to raise a child, especially in this world. It's even more challenging when the child themselves have challenges that make every day a struggle to get through.
When I write about the things that Gavin does, it's really easy to read my words and not only find them disturbing but also confuse the intent behind them.
All I can say is that I'm sharing my feelings on a very challenging and heartbreaking situation. It's easy to judge from the comfort of your computer scream but when you are living with a RAD kid, it's an entirely different story. The truth is, very few people understand.

To be completely honest, I don't even understand myself.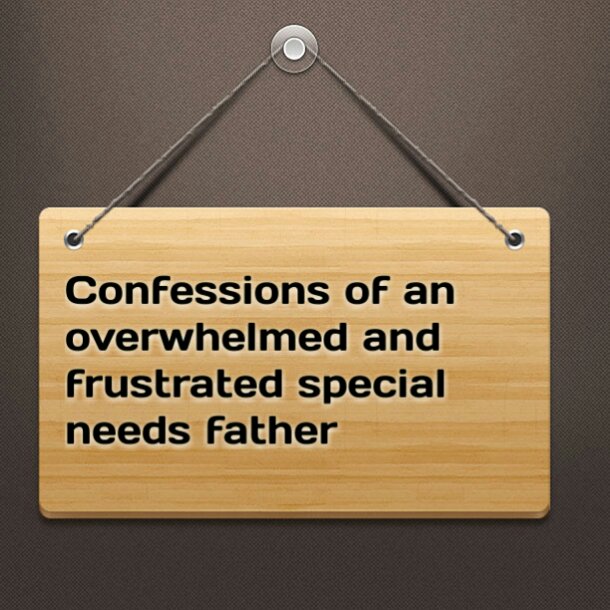 You have to remember that I never profess to be perfect. The whole point of what I'm trying to do is share the good with the bad. Should I have told Gavin that everything he was saying was bullshit last night? Probably not. In the big picture, was it a life altering mistake, I don't really think so. I only brought it up because I was simply being honest about what had happened.
As a human being, I can only take so much sometimes.
I frequently post positive things about Gavin and always have. I try to celebrate the positives whenever possible. In fact, since Gavin moved back home earlier this year, there have been tons of positive things about him that I have shared and we have celebrated.
Something that you have to understand is that when dealing with Gavin, you aren't dealing with a child that's simply Autistic. Gavin is a child with an unbelievably complex mental health.
We are living each and every day with someone that we not only love, but who is deeply emotionally disturbed. Is that his fault? Of course it isn't. Does that make life any easier, absolutely not.
I'm frustrated because no matter what we do to help him, we can't get anywhere.
Now we've reached the point where he lies about everything, even things that don't make any sense to lie about.
The truth isn't something that's pretty and perfect. In our case, particularly when it comes to Gavin, it can be quite unpleasant to read about. Having said that, it's even more unpleasant to live.
Do you think that I enjoy even thinking that I can't trust my son?
This is killing me. I mean, it would be so much easier if I didn't care but I do. The truth is, I care too much because I can't let this go. I can't accept that he's lying to us about everything. I'm constantly looking for a reason as to why this is happening, something that explains why he's doing this. Something other than Reactive Attachment Disorder. Something that we can help him through.
I spent so much time and energy, simply trying to reason with Gavin and help him to understand that what he's doing is wrong but nothing sticks. You can only teach so many things.
If you think that I'm too hard on Gavin, what do you think is going to happen when he gets older and still does the things he does now? My fear is that he's going to end up in the legal system on the wrong side of the law.
I'm doing everything I can to try and somehow reach him before we get to that point.
The truth is that I'm running out of steam, especially when it comes to his behaviors. Every ounce of energy that I give to him, takes away from someone else.
The homework issues that have recently come to light are very, very frustrating for me. I feel like if I wash my hands of this homework stuff for example, even though it's what everyone is telling me is best, that I'm somehow letting him down.
The reality is that we are never going to get a straight story from him. It's so hard to accept that he's lying to us about all of these things. In fact, I'm the last one to accept that this is what's going on. I'm far more likely to believe that what Gavin is a saying is true because I want so badly to see the best in him.
Unfortunately, the reality we live in anymore is one that has Gavin being deceitful about everything. I'm sure that there are things he's being honest about but they are mixed in with so many untruths that there no way to tell the difference anymore. Every time I get sucked into one of his stories and believe what he's telling me, I end up finding out that nothing he said was true.
I want to remind you that the purpose of this blog is to share what my life is like on a daily basis.
It's not always pretty and often times it can get quite depressing and dark. You may read about things that I've said or done and think I'm a horrible parent. I ask that you remember that I'm sharing the good with the bad, including my personal mistakes or missteps. I'm the farthest thing in the world from a perfect parent.
Having said that, I get up each day, after very little sleep and dedicate my life to my family.
I'm overwhelmed, overworked, exhausted and frustrated. I'm heartbroken and worried sick about what the future holds for my kids, especially when it comes to Gavin. I make plenty of mistakes along the way and I openly admit that.
I'm not asking you to be comfortable with my life or what I have to do with Gavin. I do ask that unless you have walked a mile in my shoes, that you try and reserve judgement.
This site is managed almost exclusively from my Samsung Galaxy Note 3. Please forgive any typos as auto-correct HATES me. 😉
Follow @Lost_and_Tired

"Like" me on Facebook

Visit the My Autism Help Forums
To reach me via email, please Contact Me