One of the things that so any people don't understand is just how hard holidays can be for families with special needs children.  This is one of those things that tends to cause tension with friends and family.  Over time, it leads to damaged relationships and loss of friendships.
How do I know this? Because it's happened to my family and countless others that have shared their story as well.
The tension is a result of not being able to attend functions because our kids simply don't do well in these types of situations. 

A lot of people tend to take things like this personally or as some form of rejection. It's not personal at all.  It's not even about them in the first place.  It's about doing what's best for the child with special needs. 
This is something that can be hard for people to understand because many times they will never experience the problems that we, as special needs parents are trying to avoid, as many meltdowns will likely occur after the stimulating event has ended. In the case of my family, we would often leave the moment we saw that one of our kids had reached their limit. We tried to avoid having a meltdown in front of everyone.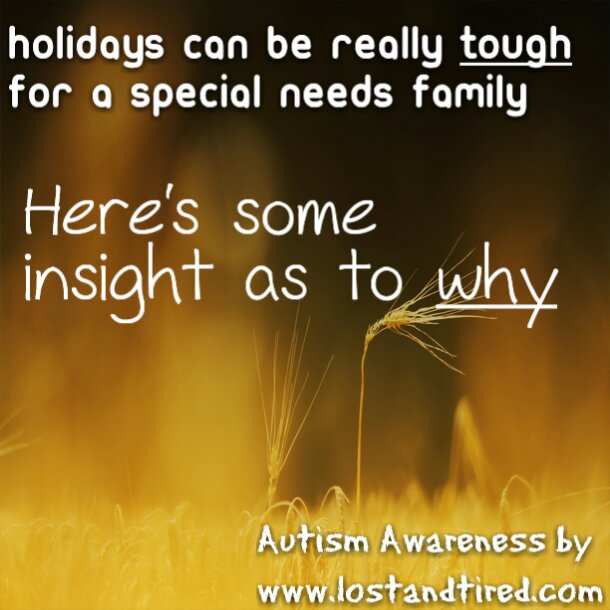 When our kids with Autism, are put into situations that are filled with lots or people, noise, bright lights and excitement, it's easy for them to get overwhelmed and decompensate. What follows is usually an explosive meltdown.  The meltdown is unpleasant for everyone and it can happen multiple times in the days following an event like this.
This is what we are trying to avoid by opting out of the holiday festivities.  We don't want our kids to have to go through things like this and to be honest, meltdowns are exhausting for a parent as well.
Of course we would like to connect with family and friends over the holidays or any day for that matter. Sometimes just having contact with another adult can be amazing.
It's just that our kids need us to make these sacrifices for them.  Our goal is to make the lives of our special needs children better and if that means giving up things that we as parents would love to be doing, than so be it. 
If you were to ask any special needs family, why they avoid situations like this, there will likely be wide range of reasons why. At the end of the day though, I think that most parents of kids with Autism and SPD, have similar reasons for making the decision to abstain from these crowed events.
It's important to understand that more often than not, you, as our family and friends, are not responsible for this. It's nothing you are doing wrong. It's just one of those things that we have to do, in order to ensure that our kids are okay. Please don't take a declined invitation as a form of rejection. We simply know that our special children have limitations in some areas of their life and are more susceptible to becoming overwhelmed by everything that's going on.
Remember, this is just one of the reasons that the holidays are tough for a special needs family.  Every family has a story and it's important that we listen to what they have to say and support them any way we can.
This site is managed almost exclusively from my Samsung Galaxy Note 3. Please forgive any typos as auto-correct HATES me. 😉
Follow @Lost_and_Tired

"Like" me on Facebook

Visit the My Autism Help Forums
To reach me via email, please Contact Me