I'm always hard on myself because I never seem to get enough done around the house. I think I've figured out why that is. Lizze and I don't sleep well at night. She's in pain and in menopause, so that makes sleep elusive for her on many nights.
If she doesn't sleep well, I don't either.
We also have at least 2 of the boys up at different times thoroughout the night. There is almost never a time where we can sleep straight the through the night.

When the boys are home, I'm personally on high alert all the time and it's draining. I have to supervise Gavin constantly because he's not allowed to be alone with his brothers. This is per Gavin's psychologist and psychiatrist. There are very real safety concerns if he were to be left alone with the boys.
Let me tell you, that's exhausting. Our house is to small as it is and so there really isn't anywhere for anyone to be but on top of each other.
Because of Lizze's medical needs, I try to let her sleep all day while the boys are at school. When they're home, I do my best to let her sleep during the day for at least 2 hours at a time. She usually gets in at least a few naps.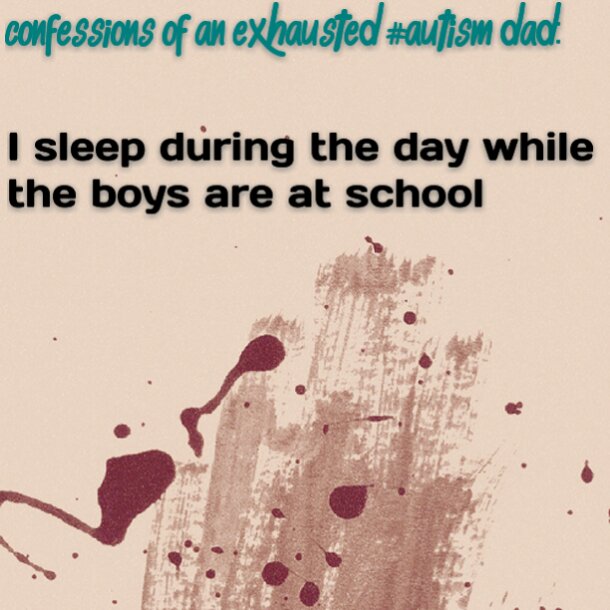 Lately, when the boys are at school, I've been falling asleep and only walking up with enough time to get the boys from school…
Once the boys are home, the process starts all over again.
I really set out with the best of intentions and I have goals for the day. Things like writing, dishes, laundry, vacuuming and exercise are on that list of goals.
Those things are largely still on that list, waiting to be crossed off.
As disappointed in myself as I am, I'm beginning to realize that I should probably take the sleep when I can get it. At this point, I'm the captain of this ship and Lizze's health prevents her from taking the wheel most of the time. If I go down, there's no one left to take over.
It's not a perfect scenario by any stretch of the imagination. However, it's the reality I live in at this point in time. I can't change it, so I've gotta survive it.
Not only do I have to survive it, but I have 4 others counting on me to ensure they survive things too….
This site is managed almost exclusively from my Samsung Galaxy Note 3. Please forgive any typos as auto-correct HATES me. 😉
Follow @Lost_and_Tired

"Like" me on Facebook

Visit the My Autism Help Forums
To reach me via email, please Contact Me