Gavin was doing pretty well today and we were contemplating allowing him to return to school in the morning.  Those plans have since changed. 
As the day has turned into night, Gavin started going downhill.
He fell down the steps a bit earlier this evening.  He didn't get hurt but he scared the shit out of Lizze and I.  At least he's okay but he's definitely weak and a bit disoriented still.  This is from being sick, not the fall. 
Before bed, he was playing a game on the computer with Emmett and he stood up, declared that he's not feeling well and went to bed. 

Gavin would never turn video games down unless he really wasn't feeling well.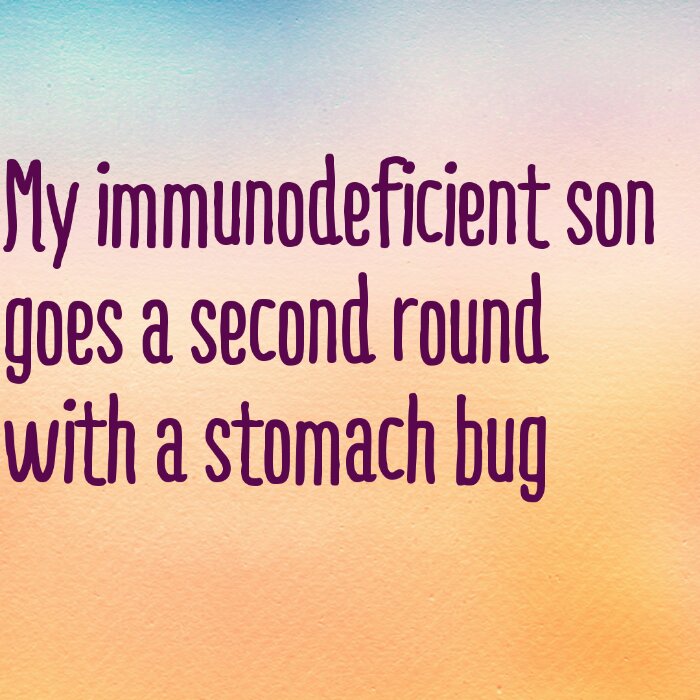 I went upstairs to check on him and he was feeling okay but his stomach hurt. 
After checking on Gavin, I went across the hall to clean the bathroom. After a few minutes I heard this strange noise.  I thought it was actually coming from outside and so I didn't pay much attention.
When it got louder, I went to check on Gavin again and it turned out to be him making this weird, low growling noise.  I don't know why he didn't just call for help because I would heard that. 
Either way, Gavin was doubled over in pain and felt like he was going to puke. 
We made him as comfortable as we could and gave him his meds. He fell asleep, feeling better and is still sleeping as I'm writing this.
I'm not sure what's going on with him but it seems as though this stomach bug is taking the fight a second round. My instincts are to worry but his doctor said it was okay to be sick. Having said that, round two is really concerning and I'm going to speak with his Immunologist in the morning.
Please keep Gavin in your thoughts and prayers.
This site is managed almost exclusively from my Samsung Galaxy Note 3. Please forgive any typos as auto-correct HATES me. 😉
Follow @Lost_and_Tired

"Like" me on Facebook

Visit the My Autism Help Forums
To reach me via email, please Contact Me