Lizze publically announced the other night that she has been diagnosed with Borderline Personality Disorder. While this diagnosis has been on the table for a few years, it wasn't confirmed and actually diagnosed until  just before Christmas 2013.
Lizze has been trying to process everything that we learned at that Cleveland Clinic appointment but it's honestly a lot to take in. 
She's been struggling since gaining this knowledge because it's a scary diagnosis, especially if you don't understand what it means.  At the same time, nothing has really changed.  She's still the same amazing person she was before but to her, everything is different.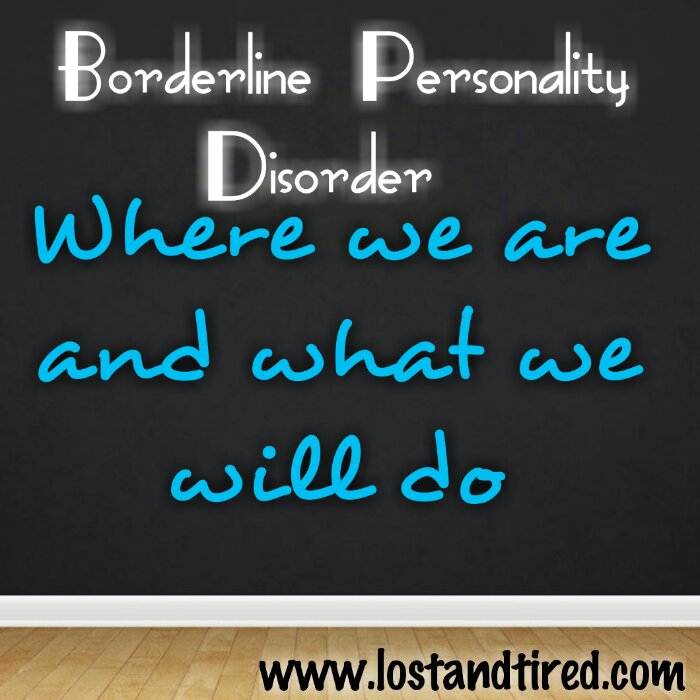 To put this diagnosis in its simplest terms, this is basically what happened. 
Essentially, Lizze has experienced so much trauma in her life, that it's gone beyond PTSD and fundamentally changed the way she sees and interacts with the world around her. 
People with BPD experience emotions very intensely, very easily and for much longer periods of time.  This makes moving past very intense emotionally charged experiences very difficult.  Those diagnosed with BPD have abandonment issues, difficulties with interpersonal relationships and extreme social anxiety.
What I found interesting and comforting was that when the doctors came back into the room and explained her new diagnosis, they wanted to make sure she understood that this doesn't make her crazy. 
They explained that Borderline Personality Disorder is absolutely debilitating because it affects every aspect of one's life. They wanted to validate that what Lizze is experiencing is not laziness or irresponsibility.  It's a mental illness that has such a profound impact on a person's life that they simply cannot function.
We learned that because of all the health issues that she has, her situation is worsened.  The sleep disorder, Fibromyalgia, chronic migraines and menopause, only serve to make life that much more difficult and any treatment, that much more complicated.
The Cleveland Clinic has added Klonopin to her medication regime but aren't touching anything else right now.
The goal is to continue intensive therapy and return to the Cleveland Clinic every month for medication management and further treatment.
With treatment, a person can learn to overcome much of what makes this disorder so debilitating.  When symptoms are managed or no longer present for a period of two years, one is considered to be in remission.
Studies show that the vast majority of people that receive treatment can experience relief from the more distressing symptoms and maintain that relief for the long term.  Every person is different and an individual's milage with treatment may vary.  However, I know Lizze and if anyone can overcome this, it's her. 
There's a long road ahead of us but I think it's amazing that she is willing to be so open about this.  It takes a great deal of courage to share this type of information in the public forum and be willing to not only talk about it but also answer any questions that you may have. 
Please check out Lizze's personal blog My Life Beyond Labels for more information and to read more about her story. She's very willing to answer your questions and connect with others with the same diagnosis. 
For my part, I'll share this journey from my perspective and how it impacts me as a spouse but this is Lizze's story to tell and I would never presume to know what she's thinking or feeling. 
This site is managed almost exclusively from my Samsung Galaxy Note 3. Please forgive any typos as auto-correct HATES me. 😉
Follow @Lost_and_Tired

"Like" me on Facebook

Visit the My Autism Help Forums
To reach me via email, please Contact Me