This is a really sensitive subject, especially around the IEP table.  Should kids with Autism get homework? I think that's an interesting question and one that likely doesn't have a simple or clean answer. 
The frustrated parent in me, that's currently dealing with my oldest freaking out over his homework, says that homework is too much to ask of a child that barely makes it through the school day in the first place. 
I feel like homework is important because it helps the kids to practice and apply the knowledge they learned during the school day, outside of the classroom environment.

But… and this is a big BUT…. When your dealing with a child that literally struggles to make it through the day, adding homework can often push them over the edge.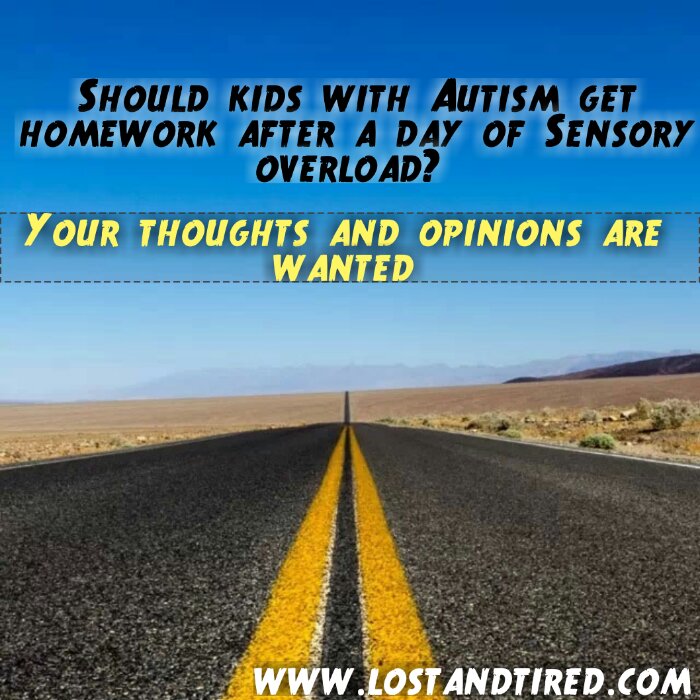 This may not apply to everyone on the Autism Spectrum because everyone is different but I bet there are parents reading this now that are in total agreement.  I think that when you are dealing with a special needs child, there is no one size fits all approach when it comes to education or anything else for that matter. I also think that while we want to challenge our special needs kids, we also have to be realistic.
Many of these kids are on sensory overload by the time the dismissal bell rings. In fact the bell itself is a likely contributor to that overstimulation.
I've stood on both sides of the homework line recently but as I'm watching my son struggle with his homework, I find myself asking what's the point?
Homework has been a huge source of stress for my family, for multiple reasons and I wonder just what we actually gain from this struggle? By the time we work through the frustration and meltdowns or tantrums, nothing is gained other than a strong disdain for school work.
I'm not suggesting that anyone should get a free pass but I think we need to look at the whole picture and begin to realize that sometimes simply surviving all the stimulation from the day is a monumental achievement on its own. Should we really push them after all of that?
As an Autism parent for almost a decade, I know that it's frowned upon to suggest that our kids with Autism are different. God forbid we ever acknowledge that Autism can have and often does have significantly debilitating symptoms.
Many of these kids spend all day at school, under a constant sensory assault.
At this point, I'm of the opinion that once my kids get out of school at the end of the day, they need that time to decompress and find relief from the day they just endured.
This is a really good topic for discussion and I would love to hear your thoughts, opinions and experience on this matter.
This site is managed almost exclusively from my Samsung Galaxy Note 3. Please forgive any typos as auto-correct HATES me. 😉
Update: If you like this post, check out these as well. Click —–> Here <—– for my Top Posts.
Follow @Lost_and_Tired

"Like" me on Facebook

Visit the My Autism Help Forums
To reach me via email, please Contact Me