I'm just gonna say it. I hate today. It's only been here a short while but I already it. This morning has been a complete disaster. We had everything thing this morning. Emmett screaming, Elliott crying and Gavin in full on think to breath mode.
Emmett was once again complaining about a tummy ache and refusing to go to school. He's been doing this every morning since one of his teachers left for another job.
It took Lizze and I until 10 minute after 8 this morning, just to convince him to get dressed. He's not sick, he's just not adjusting to the change. After 1.5 hours, we finally convinced him that he would be okay to go but by that time, we were already 10 minutes late.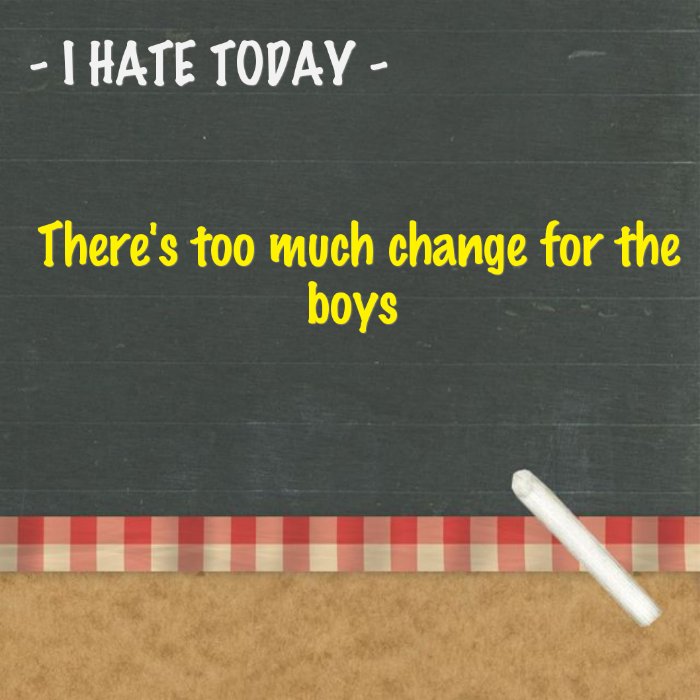 Elliott's already an emotional train wreck and he just found out yesterday, that his teacher has left as well.
According to Elliott, the remaining teachers assistant told him that his teacher had better or more important things to do than be their teacher. Whether that's what she actually said or just how Elliott took it, remains to be seen. However, Elliott didn't want to get out of the car when he got to school because he says the whole classroom has changed.
I asked him to explain.
He says that the remaining teachers aide has moved everything around. In other words, she rearranged the classroom the way she wanted it, before the teachers chair was even cold.
Again, whether she did this or not, Elliott is really upset about all the change and I need to find out what's going on.
If this is indeed the case, that's a great deal of change for a very ridged child.
I wanted so badly to just bring him back home with me and do something special with him but there wasn't a good way to do that without tipping off the other boys, who would want to join us.
So I have 2 disgruntled kids and one that is not able to think for himself today. I'm so tired and my stress level is already through the roof. It's never good to start a Friday, the so way a Monday would typically go.
I'm not sure how today is going to play out but I do know that so far its sucked. Its sucked big time.
This site is managed almost exclusively from my Samsung Galaxy Note 3. Please forgive any typos as auto-correct HATES me. 😉
Update: If you like this post, check out these as well. Click —–> Here <—– for my Top Posts.
Follow @Lost_and_Tired

"Like" me on Facebook

Visit the My Autism Help Forums
To reach me via email, please Contact Me