I've remained largely quite on the topic of Autism parents that turn to murder or murder/suicide. It seems that I keep reading more and more stories about parents that murder their child with Autism and then commit suicide or at least attempt to.
This morning I shared another tragic story of a mother killing both herself and her adult Autistic child.
I think that everyone of these stories are horribly tragic. As a parent to 3 kids with special needs ranging from Autism to Reactive Attachment Disorder, I understand what being overwhelmed, frustrated and demoralized is like.

However, on my darkest day, I couldn't even imagine harming one of my babies. It's hard not to judge someone who would choose to cause their child intentional harm and there is no excuse for hurting a child, Autism or not. There is no part of me that condones any of these parents actions.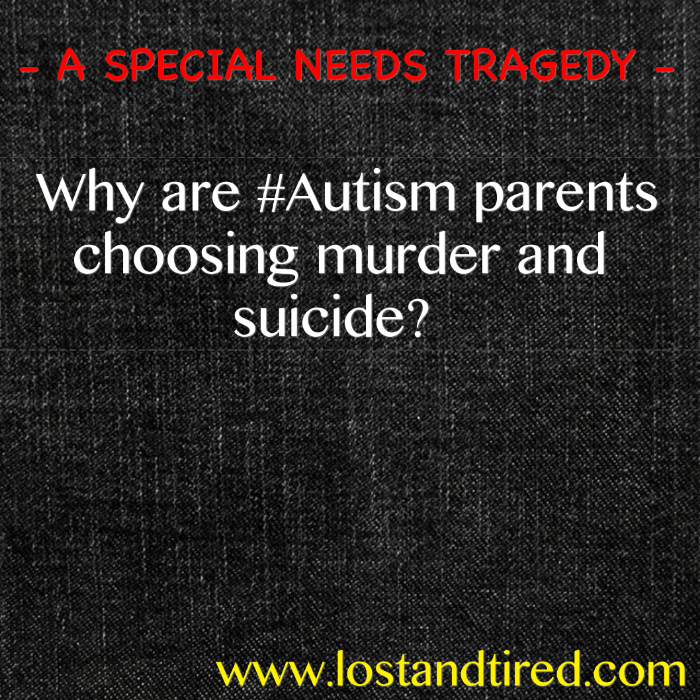 That said, I'm not sure that we should take these tragedies at face value.
In some cases, parents that hurt their kids are simply monsters. People are capable of truly evil actions, for no apparent reason. We see it all the time on the news. In this article, I'm not referring to these types of people.
However, when it comes to a special needs parent murdering their child and then commiting suicide, I feel like something else is going on. While I will never condone these actions, at the same time, I feel like I can understand how someone can get to that point, at least to some degree.
I think these tragedies are symptoms of a more systemic problem and I'm greatly concerned that we are going to begin seeing more and more of these things happening and more and more families are becoming special needs.
Honestly, I don't necessarily think that these parents are evil or even monsters. I feel like these are parents that are driven to the edge of insanity, out of desperation, despair and hopelessness.
All too often, families like mine, go without help, support or services needed to assist in the raising of what can be considered very, very challenging children. Many times, these parents are dealing with stress related, chronic health issues of their own as well.
There is an overwhelming number of special needs parents that feel completely isolated from society because there is a lack of understanding, compassion and support.
It's not always that parents aren't looking for help, it's that help isn't always available. I understand what it feels like to be staring down a road that seems to be overcome by grief, guilt, loneliness, despair, fear and isolation. I understand how daunting it is to know that you will be doing this for the rest of your life. It's completely demoralizing and it can be very, very difficult to keep any form of hope alive.
Does this justify someone choosing to kill their special needs child? Of course not!!
I think that life is full of decisions and choices that we must be held accountable for. At the same time, it's difficult not to feel empathy for a parent that has sunken into such a dark and desperate place that they would do the unthinkable……
Let me be very, very clear. Simply because I feel empathy for someone, doesn't mean that I condone their actions. It means that I recognize that there is very likely more to the story than what is received at face value.
I mentioned that it's difficult for me not to judge someone for killing their child and then either taking their own life or attempting to.
Having said that, what tragedy beset that parent to make murder suicide seem the best option? Perhaps it feels like the only option for someone in their unique situation? I don't know because I'm not walking in their shoes and I'm not privy to their personal experiences.
If feel like something truly profound must have happened to drive an otherwise loving parent to commit such a horrific crime. Especially considering that in many or most cases, the parent at least tried to end their own lives as well. I can't even begin to imagine the pain and anguish that would drive someone to do this.
Each and every one of these tragedies is a wake up call… We need to focus more time, attention, energy and money on supporting special needs families.
Could things have turned out differently if these parents had the help they needed or had been desperately seeking? No one knows for sure but I think it would be safe to assume that things may have been different for at least some, if not all of them.
Does this make it societies fault that these tragedies happen? That's not really for me to decide is it.
I will say that I think that society doesn't always embrace those that are different. Special Needs families can be very different from what society deems as normal or acceptable.
That said, at the end of the day, everyone has a choice. What I think that we need to do is make sure that parents in these situations actually have better options or at least other options. We need to identify the warning signs and respond in a means that will help these families climb out of despair and hopelessness.
My heart goes out to these families but especially to the children that have had their lives cut tragically short. This has to stop.
Please know that while I can't always fix things, I can always be reached. If you or someone you know is struggling with isolation, please know that you aren't alone. If you need someone to talk to, shoot me an email or message on Facebook. I'll do my very best to help. Sometimes it just helps to connect with others that understand.
This site is managed almost exclusively from my Samsung Galaxy Note 3. Please forgive any typos as auto-correct HATES me. 😉
Update: If you like this post, check out these as well. Click —–> Here <—– for my Top Posts.
Follow @Lost_and_Tired

"Like" me on Facebook

Visit the My Autism Help Forums
To reach me via email, please Contact Me