Today has been one of the most emotional days I can remember.  It ended with me standing in the AT&T Wireless store crying.  How did I find myself there? Simple! I realized how massively I've failed as a parent. 
Yesterday morning, we took Elliott's cat Greysha, to get spayed. We prepared him for this, well in advance but he was still really freaked out about this.
The surgery went fine but she had to stay overnight.

I could just see the stress, anxiety and fear on his face, ever since she was dropped off on Tuesday morning. When I picked him up from school on Tuesday afternoon, he walked up to me with tears streaming down his face. It just broke my heart.
Fast forward to lunchtime Wednesday.
Lizze and I were running a few errands and I decided about noon that we needed to do something a bit outside of the box to help Elliott with this whole Greysha getting spayed thing.
I called the school and said I would be there soon to pick Elliott up.
When I picked him up at the office, he looked like he had the weight of the world on his shoulders. As we walked out together, I explained that we were going to pick up Greysha and bring her home. This way he could have some quite time with her before the boys came home and things got crazy.
His little face just lit up the moment he heard what we were doing. The next thing I know, my heart was shattering into a million pieces….
While we were walking out to the car, Elliott handed me a Valentine Card that he had made for Lizze and I. This is what I read….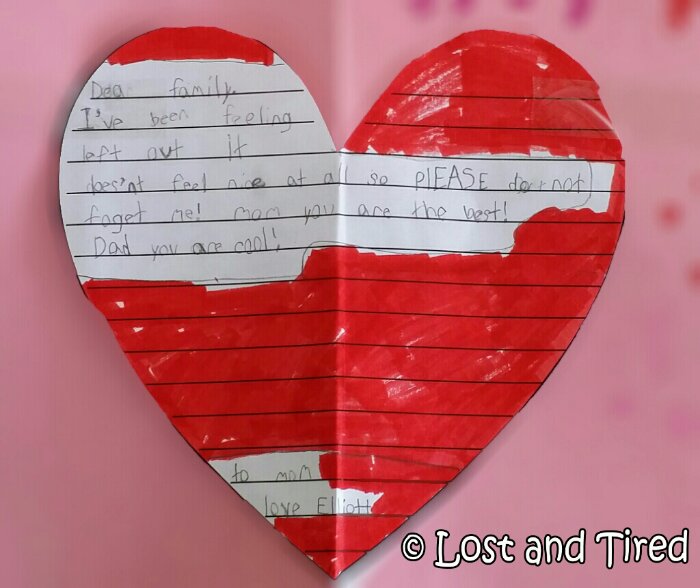 Dear Family,

I've been feeling left out. It doesn't feel nice at all. So PLEASE don't forget me! Mom you are the best! Dad you are cool!
All I can think is that I've massively failed my sweet, beautiful and sensitive Elliott. I can't tell you how many times I've broken down since reading this….
It's not about me, it's about Elliott but I just can't explain how utterly horrible I feel right now.
Lizze and I both spent the afternoon talking to Elliott about this and spending time with him. He explained that we spend so much time taking care of Gavin and Emmett that he feels forgotten….
I been so worried about this exact thing for years now. I knew that he wasn't getting as much attention as his brothers but I thought I was doing okay. I couldn't have been more wrong.
This has to get fixed and fixed immediately. I'm honestly doing the best I can but I need to do better than that…
This evening I had to run a few more errands after the boys went down. My last stop found me at AT&T having to get a new SIM card. While I was waiting, I was cropping the picture above and I just started to cry. I fought back the tears and finished what I had to do.
On my way home, I stopped by and showed my Mom the card and talked about this whole thing because I'm so overwhelmed by everything and I'm not coping very well right now.
That basically brings me to writing this post and sharing how I've failed Elliott.
Look, I know I have a lot on my plate. However, I have set a very high standard for myself when it comes to my family. Elliott is the last person I would ever want to let down and it kills me that he's been feeling this way and we are only just now finding out about it.
Tomorrow is a new day and I'll continue to do the best I can. Knowledge is power and so I will take what I've learned and do my best to improve……
Thanks for listening…..
This site is managed almost exclusively from my Samsung Galaxy Note 3. Please forgive any typos as auto-correct HATES me. 😉
Update: If you like this post, check out these as well. Click —–> Here <—– for my Top Posts.
Follow @Lost_and_Tired

"Like" me on Facebook

Visit the My Autism Help Forums
To reach me via email, please Contact Me