I'm really feeling beat down today. I'm demoralized and honestly heartbroken. I use the term heartbroken somewhat often but never loosely.
When it comes to what's going on with Gavin, there's no other work besides heartbreak to describe what it feels like.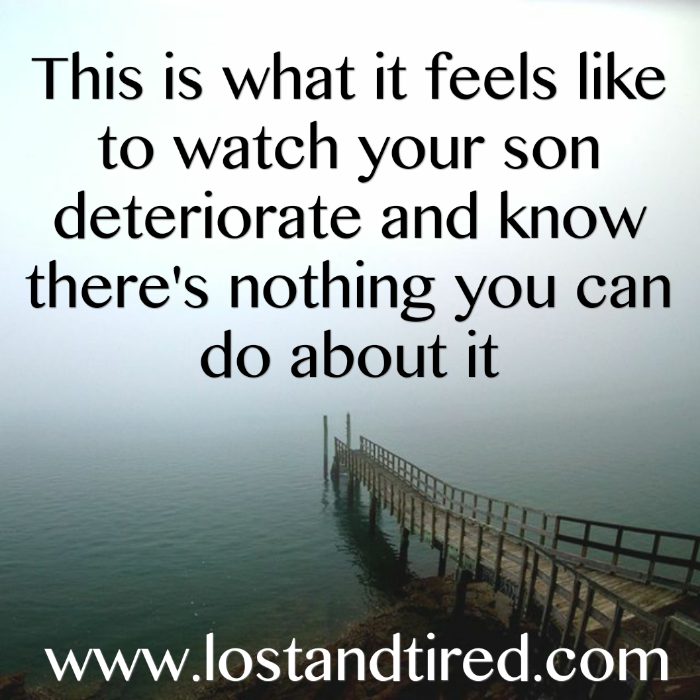 As a parent that has to watch their child deteriorate in front of their eyes, I can assure you that there are no words to accurately express that level of pain.
Gavin's been really beginning to struggle once again.
His memory is essentially nonexistent and it's absolutely impacting his daily life. He's never been the proud owner of any form of commonsense but he's approaching uncharted waters, even for him.
Lizze and I are seeing less and less of the 14 year old Gavin and more and more of the 3 or 4 year old Gavin.
We're having to work increasingly more on completing even simple tasks. Right now, 1 or 2 step tasks are taking several attempts to complete properly.
I wish that I could climb inside Gavin's head and learn more about what he's experiencing. He's not ever really been able to tell us what's going on or even how he's feeling. He's very, very verbal but that alone doesn't always translate into useful information.
Gavin struggles with the boundaries between real life and the imaginary. He'll suffer in silience with chest pain but completely lose it over a paper cut.
I'm realizing that we really have to make a concerted effort to take advantage of whatever time we have with him. Truthfully, as crushing as it is to even allow these thoughts to enter my mind, neither Lizze nor myself feel like Gavin's future is very bright.
We've done everything even possibly conceivable, to help him in every possible way and for 10 years we've been coming up empty.
Today's been a really tough one for me personally because Gavin's been struggling today and while it's not his fault, it's still frustrating, overwhelming and exhausting.
Hopefully, tomorrow will be a better day…..
This site is managed almost exclusively from my Samsung Galaxy Note 3. Please forgive any typos as auto-correct HATES me. 😉
Update: If you like this post, check out these as well. Click —–> Here <—– for my Top Posts.
Follow @Lost_and_Tired

"Like" me on Facebook

Visit the My Autism Help Forums
To reach me via email, please Contact Me